---

Summer issue is here!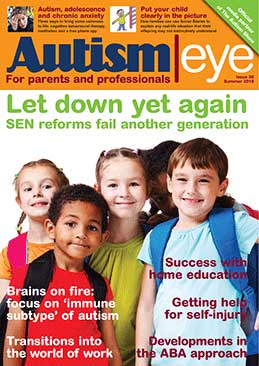 The new summer 2018 issue of Autism Eye Magazine is ready for you to view.
Read about:
Special education reforms fail another generation
Brains on fire: focus on 'immune subtype' of autism
Transitions into the world of work
Three ways to tackle anxiety
How families can use Social Stories
Claims of parents being victimised for asking for help
Success with home education
Getting help for self-injury
Developments in the ABA approach

Other useful information
Thinking of subscribing to printed issues of Autism Eye rather than reading digital ones? Get a 20% discount by clicking here.
If you have any trouble in viewing the new digital issue, you can send an email to Mark Hayes, Autism Eye's publisher, by clicking here.
We hope you find the new issue informative and useful. Please spread the word about our free digital subscriptions.
---
Share This Post: