---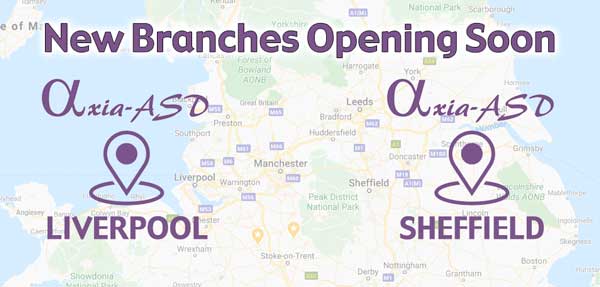 We are delighted to announce the opening of two additional branches of Axia-ASD Ltd in Sheffield and Liverpool, with practitioners who retain our values and uphold our person-centred philosophy, enabling us to continue to maintain our "Gold Standard" as defined by NICE. The new premises offer opportunities for those finding travel to Chester difficult.
In addition to the innovative and market-leading diagnostic services we already have available, we are excited to be increasing our range of post-diagnostic support. We may be able to offer you:-
Help with individualising your "Reasonable Adjustments" document for school, college, your workplace etc.
Assisting you in your Personal Independence Payment (PIP) applications or appeals.
Advising you with Education and Healthcare Plans (EHCP).
This may be via a range of additional assessments, for example:-
Cognitive Assessments with a Clinical Psychologist
Speech and Language Assessments
Occupational Therapy Assessments
Sensory Integration Assessments
Psychotherapy Assessments
Learning Disability Assessments
We can offer some of these assessments via Skype
Depending on the outcome of the assessment, you may also wish to opt for ongoing help, support and intervention, for example:-
Occupational Therapy Intervention
Ongoing Speech and Language Therapy Intervention
Sensory Integration Strategies
Psychological and Psychotherapeutic work for individuals, couples and families
If any of these new services are of interest to you, please contact our Admin Team on 01244 56 76 56 or email enquiries@axia-asd.co.uk
---
Share This Post: