---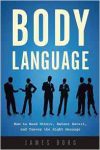 "Body Language"
How to Read Others, Detect Deceit, and Convey the Right Message
To give some idea about the importance of body language in daily communication between neurotypicals there is the 55 38 7 rule: 55% of everyday communication is by body language, 38% by paralanguage or the way you sound, and 7% the actual content of what you're saying. And it's as well to remember that body language isn't just about reading other people's non verbal signals; it's about being aware of those you are sending out, which are continuously being interpreted by others whether you like it or not.
This is an excellent book and the best of the 3 I've so far read on this topic. It is logically presented in a multimedia style with lots of interesting examples from daily culture here in the UK.
On page 11 it states that 'It's never too late to learn about body language and it's a skill you can easily become adept at – if you train yourself to notice more whilst exercising a bit of caution and taking note of the 3 Cs [context, congruence and clusters]'.
As you read any book on body language you may find yourself asking
"is this fact or just the author's theory?".
In response I would say to you, use books like this as a starting point, developing you own techniques; finding out what works for you.
Martin John Reynolds – Guest Contributor
---
Share This Post: