---
Welcome to our "Library Page". Here, attendees from our Post-Diagnostic Support Group may reserve one of the books below by email, and we will loan it to them at the next PDSG.
If you would like to reserve one of the books to borrow, please click the link below to email us. Please ensure to tell us the title of the book and your name, and we will bring it to the next PDSG for you.
---
---
ADHD
Experience:
Assistant clinical professor in the department of Paediatrics and Neurology of New York Medical college in Valhalla, NY.
Board Certified in Paediatrics
A clear source of information for both parents and professionals discussing the spectrum of ADHD, the co-occurring symptoms and common difficulties that parents face. It also provides solutions based around four rules:
Keep it positive
Keep it calm
Keep it organised
Keep doing rules
Divided into chapters which include small illustrations and checklists.
---
Experience:
Best-selling author of parenting guidebooks
Australian paediatrician
Experience:
Paediatrician that has a practice located in Edgecliff.
Targets the cause and effects of ADHD and provides well-tried practical strategies to help with common problems such as inattention, impulsiveness and underachievement.
---
Experience:
Licensed clinical psychologist
Active scientist in the department of Psychology at Michigan State University
Each chapter is further divided into smaller sections such as neural pathways and motor, control and timing. Mainly large bodies of text with figures and tables included.
---
Adjustments for individuals with cognitive differences within the workplace and schools
Co-chair of the TUC disabled workers committee
Training events for the workers educational association and for trade union
Autistic herself and an advertisement for Autism in the workplace
---
PhD in autism education
Works as senior lecturer in teacher development at Bishop Grosseteste University
Mother of an autistic child
---
Ruth Fidler is Assistant Head Teacher at Sutherland House School run by the autism charity NORSACA
Education Consultant specialising in complex autism, Pathological Demand Avoidance (PDA), interactive approaches and emotional well being
Consultant Child Psychologist
Director of Children's Services, Elizabeth Newson Centre
---
Authors are both Directors of Autism Works Now!
Dr. Grandin is a prominent author and speaker on both Autism and animal behaviour.
---
Writer, trainer and senior advisory teacher in the field of special educational needs
---
Independent consultant, researcher and internationally renowned author.
Delivers training courses for psychologists, teachers, parents and support assistants
---
Experience
Principal Solicitor at SEN Legal Ltd
---
Claire Jamieson is a tutor at University College London and chair of the UCL Committee for People with Disabilities.
Experience:
Juliet Jamieson is a Speech and Language Therapist, specialising in ASD and coordinating mentor for students with AS at University College London.
---
Autism & Relationships
Experience:
Training manager at Aspire (offering training for organisations)
Freelance trainer and consultant in Autistic spectrum conditions
Partner and her both diagnosed with Autism
Explores sexual relationships, sexual identity and the needs/ wants of an autistic individual within a developing relationship. All provided from extensive research with people on the autistic spectrum.
Contains segments of real conversations
---
Experience:
A writer, speaker, AS consultant and has Aspergers syndrome
Covers sexuality for women on the autistic spectrum. Provides an insight into relationship boundaries, ethics/ self-understanding and how to stay safe sexually.
---
Eva Mendes is a couples' counsellor working with couples where one or both partners have Asperger Syndrome, Autism Spectrum profiles and ADHD
Focuses on the fluidity within gender identity, sexual orientation and neurodiversity through individuals accounts on the autistic spectrum. Comprises of interviews which discuss themes and implications surrounding the issues.
Divided into three parts:
---
Dr Luke Beardon is a Senior Lecturer in Autism at Sheffield Hallam University and has over 20 years experience of providing support and consultancy in the field of Autism.
True life reflections from 26 authors with autism about love, marriage and single life
---
Dr Freddy Jackson Brown is a Chartered clinical psychologist with over 20 years experience working with children and families
Uses child centred practice which focuses on helping individuals learn the communication and everyday living skills needed to live a more independent and fulfilling life.
Concentrates on the areas of puberty that any parent struggles to discuss with their child. Aids as a practical guide by answering questions about puberty when raising a child with autism or intellectual disabilities.
---
Works as a specialist for the Autism Foundation of Finland
Target of book:
A clear guide on sexuality, sex, friendships and building romantic relationships when on the autistic spectrum. Puberty is also discussed.
Layout of book:
Divided into chapters with different topics such as human body changes and relationships. It follows more of an information book style with pictures and definitions. There is little discussion with information being presented in a straight to the point manner.
---
Autism in Older Generation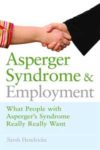 Asperger Syndrome and Employment

Experience:
Training manager at Aspire
Freelance trainer and consultant in autistic spectrum conditions
Author of many books e.g. Adult Neuro-diversity handbook
Her husband and herself have been diagnosed on the autistic spectrum
Focuses on the challenges and expectations of employment for individuals on the autistic spectrum
Divided into chapters on different topics. Provided interview answers from individuals with a diagnosis of autism to explore different challenges they have faced.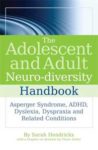 The Adolescent and Adult Neuro-diversity Handbook
Experience:
Training manager at Aspire
Freelance trainer and consultant in autistic spectrum conditions
Author of many books e.g. Love, sex and long term relationships: what people on the spectrum really want
Her husband and herself have been diagnosed on the autistic spectrum
Exploring different neurological differences (Tourette's, ADHD, OCD, Dyspraxia and Autistic Spectrum Disorder) and how to gain support to manage them in adolescence.
Follows a very systematic layout with each chapter focusing on a different condition.
Each condition is explored through the history, current thinking, diagnosis and therapy/support with a positive outlook to finish.
Experience:
Associate professor in the Gerontology interdisciplinary Programme at the university of Utah.
Research interest is in autism across the life course with a gerontological focus
Focuses on the broad range of issues such as healthcare, housing, rights , social policy, importance of relationships etc that people with autism will face in mid and later life.
Contains a high level of detail about the biology of autism which is combined with clinical perspective and personal feedback.
Includes chapters such as:
The Biosystem
The microsystem
The macrosystem
Experience:
Diagnosed with Asperger syndrome at 51
Began personal study of psychology and complementary healing practises in Thailand
Discusses the process, pros/cons and after-effects of receiving and autism diagnosis in adulthood
Contains case studies which aids the practical guidance. Covers a range of topics
---
Children's books on different cognitive differences
Experience:
Diagnosed with Autism
Post-graduate qualification in autism and primary educational studies degree
Based on the main character called 'Vera' who struggles to enjoy and progress in school. It shows her journey into channelling her attention and creativity to achieve great school/social successes.
Written in 3rd person with occasional inserts from Vera's point of view. Divided into readable sized chapters.
Experience:
Author, avid home cook and a lifetime geek
A cookbook designed to incorporate all the popular TV shows and movies (Game of Thrones, The Hunger Games, Star Trek etc) into new and wonderful recipes for everyone to try.
Each page is designated to a different dish. A recipe, summary of the origin of the dish and a photo of the finished product is included with each dish.
Experience:
Part time occupational therapist
Focuses on the message of believing in your own dreams. This message is brought about through the main character 'an elephant' and how he wants to achieve a dream that everyone thinks is impossible.
Hand drawn illustrations support the few lines of text on each page. Written in 3rd person in a story like manner.
Experience:
Diagnosed with Asperger's syndrome
Writes for people with Autism Spectrum Disorder
Presents a series of different scenarios and how communication between the Autistic and Neurotypical can arise in these situations.
Each comic strip scenario is presented on one page with a clear statement of the scenario written before it.
Experience:
Grew up with dyspraxia and watched her daughter do the same
Follows the struggles Charley experiences as he tries to manage his poor co-ordination and overcome these struggles to realise his true strengths.
Written in 3rd person with large illustrations. A few lines of writing are on each page.
Experience:
She herself is dyslexic
Has a MA in writing from Nottingham University
Follows Azzie who struggles to read letters, words and numbers (dyslexia). It highlights how understanding can help individuals achieve develop these skills without feeling inferior or 'stupid'.
Bright, colourful images contribute to the first-person style writing as it's written from Azzie's perspective.
Experience:
Special needs teacher at a school for young people with severe learning difficulties and autism
A rhyming story to help young children face unfamiliar surroundings and experiences
Uses the same illustrated character throughout the book. Incorporates thought bubbles into pictures to relate pictures to emotions.
Experience:
Specialist Advisory Teacher, University Lecturer, Autism Spectrum Specialist and international Author
Writes with her son who has High functioning Autism
Focuses on teaching children to learn to control jealousy including those on the autistic spectrum. Uses a 'green-eyed monster' as a metaphor for when jealousy arrives to relate to children.
Hand draw illustrations provided with a paragraph of text on each page. Written in 3rd person.
---
Dyslexia
Experience:
20 years' experience as a writer on national newspapers and magazines, and in publishing.
Her daughter was diagnosed at the age of 13.
Delves into 23 personal stories of success from dyslexic individuals to provide an uplifting outlook on achieving the success we all want in life.
Split into 23 chapters with each designated to an individual's story with dyslexia
They both work in the creative and design industries and have children with Dyslexia.
Looking into what dyslexia means, how it feels, its advantages and ways to embrace it through the use of learning tools and tips.
Each page contains an image with a small handful of writing. The visual stimulation is also connected to an individual and their experiences.
---
Dyspraxia
Experience:
Director of Axia ASD Ltd
Consultant Clinical psychologist, qualified since 1978
This book focuses on the diagnosis or self-identification of an individual with dyspraxia through discussing common problems, daily challenges and post-diagnostic support.
Written in short readable chapters from not just the author's point of view but also those around her. A mixture of text, images and figures shown.
---
Experience:
Learning support worker for young people with moderate to severe learning disabilities
Completing a doctorate at the university of Manchester, researching how storytelling can be used to support children living with war and violence
A humorous self-reflection of living with dyspraxia as a teen with the input of other teen stories. It has a down- to-earth nature when discussing topics such as making friends, university, bullying etc.
Divided into 11 chapters based of topics such as understanding your diagnosis. There are also small illustrations every few pages.
---
Female ASD
Experience:
Diagnosis of Autism Spectrum Disorder
Author of six books and speaks at conferences worldwide
Runs Hendrickx associates, an autism and neurodiversity focused training, consultancy and support business.
Focuses on women and girls on the autistic spectrum. It looks into the diagnosis process, childhood, education, adolescence, friendships, sexuality, employment, pregnancy and parenting and aging. In addition to this it discusses how autism can present itself differently in women/girls which has largely gone unreported til recently.
Broken down into short readable chapters which includes both academic research and personal stories which allows for the reader to interpret and understand possibly their own experiences through the experiences of others.
Experience:
Advanced specialist nurse practitioner in Autism Spectrum Conditions (ASC) working for CAMHS
30 years' experience in clinical practice
A guide for clinicians to help girls and young women with ASC to reach their full potential. It gives guidance on how to form a strong relationship with individuals through diagnosis, understanding, comorbidities, sensory issues, self-harm, emotional regulation, assessments, intervention and strategies.
Uses several personal stories to help reflect on what clinicians have done right and wrong to date. There are 9 chapters that each focus on a different topic.
Editors: Barry Carpenter, Francesca Happé, Jo Egerton
Experience:
Barry Carpenter was recently appointed to the UK's first Professorship in Mental Health in Education, at Oxford Brookes University.
Francesca Happe is Professor of Cognitive Neuroscience and Director of the MRC Social, Genetic and Developmental Psychiatry Centre at the Institute of Psychiatry, King's College London.
Jo Egerton is part-time Project Manager/Research Fellow for Beyond Words' externally funded research into how teachers use Books Beyond Words to safeguard and support and their pupils' social emotional and mental health.
Provides a crucial insight into autistic girls' experiences to help professionals to recognise, understand, support and teach them effectively. This book also explores why previous understandings of autism in girls has been poor or lacked research, however it also discusses how upcoming research is helping to provide new strategies to understanding autism in girls.
Divided into parts which are then further dived into smaller readable section. It contains personal experiences from autistic individuals, their family members, teachers, psychologists and other professionals whilst also drawing on latest research findings.
---
---