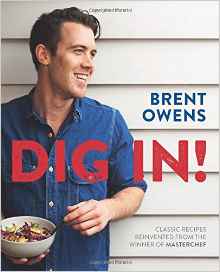 Caramelised White Chocolate & Berry Tart
By Brent Owens
Selected by "Nerd Consultant" Calvin
This is the hardest dessert I have done for a monthly support group. I thought It was worth putting on the site since getting a hold of the cookbook is tough. Because of mine and Dr Buchan's love for Masterchef Australia I have a copy of the book Dig In by former digger and Season 5 winner Brent Owens. Check it out if you get a chance it's a good mix of down to earth Aussie cooking and a couple of real challenges some of which he cooked on the show. This was a particular challenge for me because I had to do the technique of caramilising white chocolate (something prior to this month I had never done). I also managed to make it easier by purchasing raw pre-rolled pastry but I included the pastry because I know some people really enjoy their weekends making pastry. If you use pre rolled like me (because my pastry skills suck) the cooking times are the same. Fair warning this is actually quiet hard but it's good for a challenge.
Ingredients
For the Sweet Shortcrust Pastry
250g plain flour , plus extra for dusting
80 g caster sugar
125 g cold unsalted butter , cut into cubes
pinch of salt
2 tablespoons of cold water
For the filling
500 g White Chocolate
2 g gelatine sheets
125 ml double cream
300 g frozen mixed berries
55 g Caster Sugar
fresh blueberries to serve
fresh mint to serve
---
Method
Preheat the oven to 200°C (180°C fan forced)

To make the pastry mix together the flour,  Caster Sugar and salt in a large bowl until well incorporated

Using your fingers rub in the butter until the mixture resembles breadcrumbs, alternatively you can use a processor.

Add the cold water to mixture and form it into a dough. Roll the dough into a disc and wrap in clingfilm and keep in the fridge until needed (at least 30 minutes)

Once chilled, roll out the pastry on a floured surface til 3mm thick. Line it on a loose bottom 23cm tart tin. Place some baking paper over the pastry and add baking beads and bake blind for 12 minutes

Remove the baking paper and beads and cook blind again for 7 minutes until lightly coloured.

Reduce oven temperature 160°C (140°C fan forced)

Break up the chocolate and spread across an even layer into a baking tray lined with baking paper. Bake for 30-35 minutes stirring every 5 minutes until golden and a caramel colour

Remove the chocolate from the oven put in a heatproof bowl over a saucepan of simmering water

Put the gelatine sheets into water for 2-3 mintes until loose and squeeze out the excess water

Once the chocolate has re-melted fold through the cream and gelatine

Meanwhile put the berries and sugar into a saucepan on a medium heat. Reduce heat to low and simmer for 15 minutes then leave to cool

Assemble the tart by putting the berry mixture into the pastry case followed by the white chocolate mixture then leave in the fridge for an hour to set then when ready serve with blueberries and mint leaves tossed over it.
Share This Post: