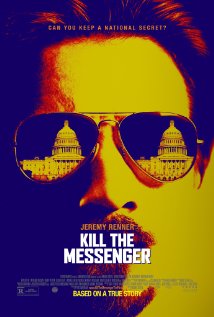 "KILL THE MESSENGER"
You know, I wouldn't have picked this movie. Honestly this wasn't the one I would have picked for this weeks review, I would have reviewed Chappie, not that I didn't think Kill The Messenger had some merit to it, I saw the trailers and it looked promising. But I wouldn't have picked it considering it had a very limited viewing and I thought I wouldn't be able to find a screening close to my area. However, my good friend and IT guy Dream really wanted this to be reviewed and if it wasn't for him none of this would have been possible, so I felt I owed him for all his brilliant hard work so it was put on the schedule and I made sure, by any means possible I was going to review this film (I was even at one point considering traveling to London to see the film). I'll put his mind at rest at this point and say, "yes this is a good film". Now we have got that out of the way, let's get into a bit about this film.
The film was released, in October in the States with a very limited release, hence why, if you go on YouTube to search for reviews for this film you're are going to come up short changed. Most of the critics I follow didn't see this film. Brad Jones, who pretty much goes to every film imaginable, even some of the really weird Christian Exploitation films, didn't see this film. Bennet the Sage didn't see this film, Chris Stuckmann another critic who seems to go see every film didn't see this film, which seems strange considering that this film was billed to be big at The Oscars. It was considered there was a possibility it would be nominated for Best Picture, yet when the time came around there were Zero Oscar Nominations. So let's dive into why this film may have not have received an Oscar Nomination and what makes this film good with some slight problems.
Now when Dream asked me to review this, he said it was because he wanted to see it based on the fact that it is based on a story that he really remembers and a time period he's familiar with, similar to why he enjoyed the previously reviewed Pride so much, and believed that lightning could strike twice. The story centers around the true life story of journalist Gary Webb, played in this film by Jeremy Renner during his investigation in the mid 1990's around investigating the CIA's role in arming the contra rebels in Nicaragua through importing cocaine into California. It's a story that people are largely unaware of nowadays which I think is unfortunate and a lot of people don't know much about Gary Webb due to the circumstances of how his investigation ended. However I don't want to give away the plot so I'll just leave it there on that one. Gary Webb's work was very important and should be more well known. A lot of times during this film I was getting flashbacks to the previously reviewed The Imitation Game. I will say the ending of this film is slightly more depressing than the end of Imitation Game. As for the plot itself it really juggles between the early portion of an optimistic Gary, full of his enthusiasm and a sense of justice in order to uncover the story and see that the public knows the truth to the later portion of the film having his editors, friends and family back him, which brilliantly gives the audience a sense of triumph to a juxta position of a later portion of the film which delivers a massive comedown in the aftermath of the story getting out. The lengths to which the man is put down is unbelievable and Jeremy Renner delivers this character's blight really well, but it helps that the plot is very well paced and very engaging. The screenplay is written by Peter Landesman, who previously wrote Parkland and you can definitely see a lot of that film's influence in this film, however he is not on directing duty this time and I believe that has allowed him to get to the meat of the story without having to worry about things which are more of a Director's duty and it also helps that he is confined to the articles that Gary Webb wrote and the book by Nick Schou to adapt into the screenplay. The Director is Michael Cuesta who previously, mostly worked on video shorts and TV movies, this is his first feature length film in the Directors Chair and it really does show, because at times this film does feel like a made for TV film, not helped by the fact that the film had a limited release. However I do feel that Michael Cuesta could have a future in feature length films as he does do a pretty good job with this film. With that being said his IMDB page doesn't currently list any future plans for releases of feature films. I also think this film not only demonstrates how powerful governments can be in shutting a man down, it also shows that governments are terrible at keeping things quiet and a sense of corruption is felt constantly throughout the film. Most of the characters who work in Washington feel both powerful, yet also kind of clueless as well, it also helps the fact that we don't see them too often, which adds to their sense of menace.
The supporting cast does a brilliant job of just acting as a support, they don't take up too much on the screen, so that way we can really concentrate on Gary and the fact that this is his story. The script definitely conveys a man that is passionate about his job to the extent that he will risk everything for it and in a sense he does risk everything for it. The only downside I can really say to this film, is the fact that this is not a film like Pride, Frank and The Imitation Game where you get some sense of achievement and a sense of the whole "weren't they just extraordinary people by the end", you do have at least some admiration for Gary by the end of the film, but you also feel some anger by the end of the film, and it's not because the ending is bad, it's because of the aftermath of the events after the film, which, as I say, I will not give away. The other downside I would say is, I think this film is slightly too long, I think a couple of scenes could have been cut which wouldn't have made too much difference, this film is about 2 hours long and I think it could easily have been 1hr 40mins. This film's strength, is once again, like last weeks Second Best Exotic Marigold Hotel, is in its cast and its characters which really prop up the film, especially considering they act and sound like genuine people which really helps in the context of the fact that this is a true story. The film also conveys brilliantly how the good guys and bad guys aren't necessarily mutually exclusive, yet the world around us can potentially be blind to that fact, definitely demonstrated in a few of the scenes that are set in Nicaragua. Whilst I think this film was slightly too long, the plot was incredibly engaging and I definitely think it will please a lot of the people, just don't expect this film to have an uplifting ending!
Now let's move on to the cast, and as I said, this film's cast really makes the film. The standout performance from the film is Jeremy Renner, who does an amazing job as Gary Webb. He does a brilliant job getting across a man who has a strong sense of justice and truth. He also gives across the idea that this is how all journalist should be, yet unfortunately that is not the case. He also gets really lost in the role, seriously, I recognise this guy from playing Hawkeye in the Avengers Films and he is un-recognisable in this movie and he really looks like the real man (who I have seen pictures of and there is a video of him at the end), it's very much another case of Benedict Cumberbatch playing Alan Turing and David Oyelowo playing Dr Martin Luther King. Honestly, I think this is Renner's top performance and it's the one he should be remembered for. Most of the rest of the cast do a pretty decent supporting role, especially actors like Robert Patrick who delivers an excellent performance, Mary Elizabeth Winstead does a really good supporting role. Ray Liotta is also incredibly good in his role no matter however brief he is actually in the film and I think most of the young actors that make up Gary Webb's family do a pretty decent job for the younger performers. There is a brilliant scene in the middle of the movie with Jeremy Renner and Lucas Hedges who plays Gary's teenage son Ian, which really conveys their relationship and their thoughts on one another brilliantly, this really has to be seen to be believed. Though I think the stand out performance from the supporting cast, and it's a very good supporting cast, has to go to Rosemary DeWitt, playing Gary's wife Anna who doesn't show off her brilliance in the first half of the film, but in the second half, really comes into her own. Honestly her's and Jeremy's performance are well worth the price of admission alone. The only performance that wasn't really a stand out for me was Barry Pepper as Russell Dodson, who doesn't seem completely into his performance, but I still felt he gave a decent performance nonetheless. Overall an excellent supporting cast, but I think the standout is Jeremy Renner. He may not be on the same level as a lot of the actors who were nominated for Best Actor at the Oscars, but he definitely carries this film and his performance is another factor that is worth the price of admission alone.
The only thing left to talk about is the film's presentation. I think this film's presentation is excellent in conveying the early to mid 1990's in the way the film is shot and edited. Half the time the film does feel like it's shot like 90's news reports, which I grew up watching with my parents in the living room, because we were waiting for the football match or the Simpsons to come on! This film has some excellent use of stock footage also to convey the time period. I don't think it does as good a job as say film's like The Imitation Game or Pride did at conveying their time period, some of the times the film feels like it is out of 21st century America, but I have still seen film's that do a worse job at conveying their time periods. The shots in LA are pretty damn good, especially a shot towards the beginning of the film, where Gary Webb is going through an LA drug neighbourhood. I also thought Washington was shot brilliantly as well as the shots in Nicaragua, seriously it really gave a sense of authenticity and I almost felt like I could have travelled through that area myself on one of my long excursions. My only issue with the cinematography is at times, it feels like the director is shooting an action film without there being any action! It didn't help that pretty much all the trailers that I saw before this movie were for action movie but It adds to my major negative of my film which I will go over in the next section of the review. However, that doesn't majorly detract from the fact that this film had excellent cinematography and I loved the locations and environments they shot it in.
So I have mentioned that I do have a major negative and I would say the word major is wrong, but it the negative that stands out the most for me. The film at times can feel at times slightly thematically confused. At times it feels like it's doing a story similar to Argo or The Fifth Estate and another time it feels like it's doing a story similar to The Imitation Game. There is even a court room scene earlier on that feels just like it's taken from a Law and Order episode. All of those films and TV series, I absolutely loved with the exception of The Fifth Estate, so to have all of them in one place should probably not be a major negative to me but I thought, on a technical level it might affect other people wanting to see the film. Overall I may not have wanted to pick this film to see, but I am very glad I did see this film! This is one really good film!! It's one of the biggest surprises of any film I have reviewed on the site. I thought this was going to be a filler review to get me to some of the films I really wanted to see this month, and it would just be ok, but it actually turned out to be a really frank and interesting look at journalism and government in the 90's. It's a shame the film only got a limited release in the States because I think it should have gone to a wider audience, I think it's largely down to Universal not wanting to upset the hierarchy in government.
At times the film does feel thematically confused, but eventually it gets everything in order and it may not be a wholly uplifting film, but it doesn't detract from the fact that the film has excellent performances, especially from Jeremy Renner and it has a story that more people should widely know. Gary Webb's work deserves to be known across a wide audience. Unfortunately this film is not getting out to a wider audience as it's not being shown in too many cinemas, in fact when I went to the Manchester Odeon to see my version, there was only one other person in the theatre with me!! Please do all you can to track down a cinema playing this film, or catch this on DVD when it comes out. Thanks Dream, I probably never would never have seen this one if you hadn't requested it. It's a really underrated gem, however, I don't think it deserved an Oscar Nomination because I don't think it rises to the level of film of some of the Best Film nominations, like Whiplash and The Imitation Game.
Please see this film, Garry Webb has been ignored for far too long and his story deserves to be told.
Thanks Dream this was great and I don't think I would have seen this film without your request and my film viewing experience would have been worse for it
Well, if you've seen Kill The Messenger and you would like to comment on the film or any other film you have seen this week leave something in our comments section. Remember you do not need an account or be from a specific area to leave a comment and we accept any opinions. If you would like to start your own reviews send an email to calvin@axia-asd.co.uk and for more details on that go to my Big Eyes review. Also if you get some time this weekend check out our guest contributors section which has a brilliant animation from one of our contributors, Neve. I know your time is precious and busy but please spare some time to see it.
Well, as usual I am also going to leave a question for people to answer in the comments section. This week I want to know "which true life story would you like to see be made into a film next?" since we have now had successful films about Martin Luther King, Alan Turing and Gary Webb.
If you have been following Axia's Facebook posts you may have seen last week that the next review is going to be on 20 March and it's going to be "X + Y", since the film I originally wanted to review in that section has been pushed back to Christmas and Dr Buchan requested that that be the next review. As I also mentioned in that review, I am going to be giving some recommendations as to which Autism Friendly screenings in April are worth checking out.
This has been one brilliant film review to write and I hope everyone enjoyed reading it.
Calvin – Nerd Consultant
Share This Post: