---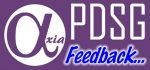 Following our
October Post-Diagnostic Support Group meeting in Crewe, I received an email from Helen who had attended.
As requested, I shared it with All at "Team Axia" and the response was so pleasing from them (I know Dream was particularly appreciative of Helen's comments) that Dr. Buchan wished to share the feedback with a wider audience.
---
Re PDSG October meeting
 

You were missed on Wednesday, I just wanted you to know 🙂

 

I wondered if you could pass on this feed back re various things to Dr Linda please?
---
Dear Dr Linda and All Axia Team,

 

Very many thanks for another great PDSG meeting, and extra thanks to Calvin for his presentation on his research re  Autism "cures" which was very shocking indeed.

 

On the subject of whether we find it beneficial to see our diagnosing clinician at the PDSG, I would like to say a  huge "YES – DEFINITELY".

 

From the first moment I met Dr Linda (who diagnosed my Aspergers in Feb 2016, and my son's before that in September 2015), I felt safe in her presence.

 

This is a rare feeling, and so to have that continued link via the PDSG. Is of great value to me.

 

I would like to add, that as I get to know the team (Carly, Dream,Calvin, Gail, Scott, Elspeth- and PLEASE forgive me if I have missed someone out here) I also value them as they add to the very real benefits of the group.

 

On this note, wouldn't it be great if we could adopt Dr Luke Beardon?

 

Post diagnosis I continue to live my life mainly as a fish out of water,  but for those two hours every month or so, I am very much a fish IN water.

 

How can something so intangible feel so right! When people talk they make sense, and if I manage to speak, I am understood.

 

Leaving the meeting, at the end of the session I find hard, because I am going back to an unsafe world, a very anxious fish out of water again.

 

Finally Dr Linda asked if any of us might be interested in helping at some level, regarding more localised help/support/meetings. And I would like to be considered as being potentially interested if I were able to help somehow, in my local area.

 
Helen Jones


Guest Contributor
---
I did actually email Dr Beardon, and he responded…
I have recently been asked whether I am available to be up for adoption by Axia-ASD. Naturally, I accepted the honour with alacrity, delight, and excitement. I am elated to be a part of the amazing family that is Axia, and the extended family that comes with it by association.
Luke Beardon


Guest Adoptee
---
Share This Post: