With the Oscars coming up in the next couple of days I deiced that the film society should pass comment on where the awards should go.
Now a few ground rules: it must be something that actually received a nomination rather than the way Mark Kermode does his Kermode awards which aim to highlight films that didn't receive a nomination (for example if Kingsman The Secret service didn't get a best picture nomination I can't pick it). It must be a movie I actually saw so no speculative picking which has basically resulted in me rushing around most of the last few months watching anything that even got a whiff of a potential Oscar nomination, also no ties – I don't care if the Oscars get to occasionally do it I must actually pick a movie no matter how hard, and finally I won't be giving a pick for Best Foreign Language Film, not out of any sort of Racism or because I can't be bothered to watch a film with subtitles, I simply didn't really have the ability to see most of the nominations because these movies tend to see Limited release in very few cinemas, and apart from anime I only saw 1 foreign language movie in 2015, plus the likely winner Hungarian film "Son Of Saul" doesn't see a release date in the UK until after the Oscars, so I didn't believe that could make a for judgment on this category. I also won't be doing Best Documentary for the same reason.
I'll be doing each category from the top up finishing on Best Picture obviously and please remember just because I didn't pick something doesn't mean I hated it or that your liking of it is in some way invalid, it's just my opinion. Oh and should mention these are what I want to get the Oscar not what I'm predicting will get the oscar.
---
Best Sound Editing
A category that's difficult to pick on with pure memory however with this one there really was one choice when I looked back on all 5 nominations
And my pick is…
Mad Max: Fury Road. It was a tough call between Mad Max and Star wars. While I love the iconic sounds of Star Wars it's the sound editing in Mad Max that brings the engines and the action of the cars in that movie to life and makes the world feel living and breathing
---
Best Sound Mixing
Once again it's a difficult category but if I gave it for sound editing to Max Max then by extension I should do the same here
And my pick is…
Mad Max: Fury Road. I've explained my reasoning behind this one so let's move on
---
Best Makeup & Hairstyling
Not exactly what I'm looking for when I watch a film but when it came to giving us a uniquie look to the characters all the films nominated did a good job however I chose what I thought really aided the movie in the best way
And my pick is…
The Revenant. While I did want to give it to the 100 Year Old Man That Fell Out Of A Window And Disappeared for it's remaking of historical figures and the ageing make up of lead Robert Gustafson it's The Revenant's make up that really accentuates the harshness of the environment and wins it for me
---
Best Visual Effects
In year of film where all the big budget blockbusters tried to outdo each over as to who could be the best sequel or reboot it felt like this award was never better fought after. All 5 had some absolutely amazing effects and in the end It came down to did I enjoy Ex Machina's one or 2 amazing effects or did I think that Mad Max had simply more great effects
And my pick is…
Mad Max: Fury Road. I chose Mad Max cause while Ex Machina may have some of the best CGI in recent memory, Mad Max Restored my faith in action directors relying on Practical effects over CGI and those cars must have been taken some amount of effort to make
---
Best Original Song
This is the one that will take up the most time at the ceremony itself with all 5 nominations receiving live performances at the ceremony and last year this was one of the closest categories. This one anyone can make up their mind simply through a youtube search and I would encourage anyone to look up all these songs to make there own opinion. While none of these songs are in my taste I was objective in making my choice
And my pick is…
Writing On The Wall by Sam Smith (from Spectre). While all the nominations were well written and performed songs (with the exception of Earned it by The Weekend from Fifty Shades Of Grey which just plain sucked and I could kick the knob of the volume bar to not have to listen to it) Sam Smith's Bond theme stands out for its sheer bombast and for the fact it perfectly compliments the movie it's been composed for. I will say I was close to choosing Manta Ray by J. Ralph & Anthony from the film Racing Extinction which I would also give a recommendation
---
Best Original Score
Now this is one of my favorite categories because I believe a great soundtrack and movie theme will mean the movie will stick with you and in the year when John Williams went head to head with Ennio Morecone it was a very strong catergory though 1 soundtrack stood out in my mind when I looked at all the nominations
And my pick is…
Star Wars: The Force Awakens. John Beats Ennio on this ocassion and while I praised the hell out of Ennio Morecone's score in my Hateful Eight review I could listen to John Williams Star Wars music all day long and gain a ton of nostalgia and hope for the future with this iconic Sci-Fi franchise
---
Best Costume Design
Costume design is a big deal because good ones can become iconic and leave a lasting impression that will stick in people's minds. Of the 5 options I immediately eliminated 3 options, Carol, The Danish Girl and The Revenant not for belief that any of them were poor in this department but the other 2 were just simply better in my opinion it was very close but I made a call
And my pick is…
Mad Max: Fury Road. I was REALLY close to giving this to Cinderella but at the end of the day the Mad Max: Fury Road costumes will stick in my mind a lot more and for a longer time. They are just so good and creative and it's a real credit to the team behind the film. One of the highlights of MCM London 2015 was seeing a group of people in cosplay as characters from the film and I suspect I'll see more this year and in years to come.
---
Best Production Design
The Production design Oscar tends to concern either amazing period accuracy or original designs and concepts making it to the big screen. This year had a good mix of both and the choice came down to which production design left the biggest impact.
And my pick is…
Mad Max: Fury Road. All 5 of the nominees had excellent production design but the outright winner for me had to be the amazing work done on Fury Road, which brought insane life to its desert setting
---
Best Cinematography
I go on about cinematography towards the end of each of my reviews and since I did formally review 2 of the nominated movies so if you want a bit of detail on my thoughts read my reviews of Mad Max: Fury Road and The Hateful Eight. Despite my praising of the cinematography in both of those films it won't go to either of them and Sicario didn't really amaze me with its cinematography. Carol had some great cinematography that harkend back to films of the 50's but at the end of the day there was one winner
And my pick is…
The Revenant. While I may have some legitimate complaints with The Revenant the Cinematography is certainly not one of them. I saw the film in IMAX and it astounded me as to how good it was. Really the shots are the star of the film. Granted I think this means that it will lose something upon its home release on DVD and Blu Ray but credit where it's due Emmanuel Lubezki did a fantastic job.
---
Best Animated Feature
With the exception of best film this the category I pay the most attention to since I'm a huge lover of animation and once again I'm not entirely happy with the nominations only because 3 of the films aren't out in the UK in time for the Oscars (Anomalisa, Boy and The World and When Marnie Was There) and it's a shame because I love the look of all of those films especially Studio Ghibli's When Marnie Was there which in reality is the film I'll be rooting for but I have to be fair and choose between the 2 films I did see
And my pick is…
Inside Out. Inside Out was really the only choice I had since even at the time I thought people went a bit overly nuts for Shaun The Sheep and my personal belief is that's only nominated because the academy belives a stop motion film has to get a nomination and this year I think it will be clear that Shaun is the weakest. Inside Out is a very well made, fun and imaginative film that firmly deserves it's place in this catergory and probably should have got some consideration for best picture
---
Best Original Screenplay
There is an interesting category considering that a large complaint against Hollywood and the Movie industry as a whole is that there are very few original ideas now. Technically the term original is kind of stretched considering that 3 of the nominations (Bridge of Spies, Spotlight and Straight Outta Compton) are based on true stories and qualify because there was no biography that the screenplay was specifically based on. I therefore based my pick on what was what I thought was the best written story and which would I want to go back to the most
And my pick is…
Straight Outta Compton. It came down to Inside Out and this and while Inside Out is very well written and I would be very happy if it got the Oscar, but I would still pick Straight Outta Compton for being one of the best Rock Biopics in recent memory that really gets to the heart of what made this music and inspired many people. It's out on DVD now so pick it up and check out my reviews afterwards.
---
Best Adapted Screenplay
Adapting a source material is a difficult task because you can either play it safe and adapt it very faithfully and risk it not translating well to film or going off in your own direction till it's unrecognisable. All 5 nominations were based on bestselling books which probably got even more sales upon the films being released so there must have been some expectation held about them. Most of these were strong but I had a couple of complaints about the writing when it came to Carol and Brooklyn the latter of which I explain in detail in my review so they were immediately eliminated. Personally my biggest disappointment was that Aaron Sorkin didn't get a nomination in this category and I believe I would have given it to him if he was nominated but in the absence of that I made the call on my favorite.
And my pick is…
Room. Emma Donoghue adapts her own novel into a screenplay expertly and creates a brilliantly emotional and visual story that is simply overwhelmingly well written. I did enjoy the Big Short's writing and up until I saw this film I was really going to give this to Drew Goddard who's had an excellent 2015 with the Netfilx Daredevil series and his nomination for The Martian which I really enjoyed, however it is Room that takes the prize for me
---
Best Supporting Actress
This one was not an outright call and I considered all 5 actresses as much as I enjoyed Jenifer Jason Leigh in the Hateful Eight she is brought down by the fact that she doesn't get much to do in the film and I'd be lying if I said it didn't affect her performance. Roney Mara arguably gave the best performance in Carol but her part isn't incredibly well written so I eliminated her as well. Kate Winslet was on the top of my list for the longest time but there was one performance that came in at the last minute that was better
And my pick is…
Alicia Vikander (The Danish Girl). If there was one Actress that really impressed me it was Alicia Vikander who gave an incredibly emotional performance in The Danish Girl playing the conflicted wife of a man wanting transgender surgery. She really gives off what is possibly the best performance of her career seriously one to watch
---
Best Supporting Actor
Ok this was a category that threw up a couple of surprises most notably Tom Hardy receiving a nomination for his role in the Revenant. His nomination was even more of a surprise when I saw the film. Don't get me wrong he's good and is probably one of my favourite actors working today but I did eliminate him especially considering I had seen Stallone's performance in Creed the previous day.
And my pick is…
Sylvester Stallone (Creed). Just when you though that Stallone couldn't add any more dimensions to Rocky he finds more ways to do it. This really is another career defining performance from Stallone and well worth an Oscar
---
Best Actress
This has been one of the strongest years for this category giving nominations for 5 great actress's with worthy nominations. I eliminated Kate Blanchet, Saoirse Ronan and Jenifer Laurence since while all of them gave great performances they were in aid of films that I thought were either ok or slightly overrated which marred their performances. So it came down to Brie Larson and Charlotte Rampling who both did what I thought were their best performances to date but I had to pick a winner for myself and this was
And my pick is…
Brie Larson (Room). It came down to the wire but Brie Larson managed to give a whole gamut of emotions and did it brilliantly. I normally don't pick the bookies favourite in the major categories at the Oscars however this year I am completely on their side because I wasn't to aware of Brie Larson before but after this performance I really want to see what she does next.
---
Best Actor
While the Oscars tend to pick only 2 or 3 genuinely good performances but I would say this year while I felt there were at least 3 performances missing from the list (Johnny Depp in Black Mass, Jacob Trembly in Room and Will Smith in Concussion) these were actually really great performances. The critics heralded Leonardo Di Caprio as the obvious choice however while I thought he gave a truly good performance I thought there were 2 that were slightly better. Up until 2016 I was gunning for Michael Fassbender to win this however I completely changed my mind after new years day.
And my pick is…
Eddie Redmayne (The Danish Girl). All the nominations were great but Eddie Redmayne embodies everything that makes an amazing performance. The delivery of the dialogue and the pure physicality brought the character to life and made the movie for me. Seriously check this one out.
---
Best Dirctor
I'm once again kind of disappointed that the legendary Steven Spielberg isn't up for this award as well as Ryan Coogler for their brilliant work on Bridge of Spies and Creed respectfully. Despite that however this was the one were I had actually kind of made my pick before seeing the nominations because I was really hoping for George Miller to get a nomination for his work on Mad Max: Fury Road over any other director. When the Oscar Nominations were announced I was very happy to see that come to fruition and I didn't think that any of the other nominations came quite up to the standard he set with that movie despite the fact Alejandro Gonzalez Inarritu and Adam McKay were excellent in their direction. Then Lenny Abrahamson came along and with his film Room he showed what a consistently good director he is between this film and his previous work Frank. I genuinely considered both directors and what they brought to each film and made my decision.
And my pick is…
George Miller (Mad Max: Fury Road). I was rooting for George Miller from the start so I figured that he really was the obvious choice. His direction allowed Mad Max: Fury Road to be an action masterpiece. Lenny Abrahamson is a really amazing director but this year for me it's all George, and why he wasn't up for the same category at the BAFTA's is baffling to me
---
Best Picture
This is it, the big one. Like 2015 there were 8 films to choose from. Personally I thought Inside Out and Steve Jobs were missing from this list but aside from that this was a very strong year and I ended up reviewing a few of the nominees but I went over all 8 of the nominees with a fine tooth comb. The Big Short was a very funny and also rather anger inducing (in a good way) film about outsiders predicting the Financial Crisis of 2008 and making a profit of it by betting against the banks which was very well written and acted especially by Steve Carrel its only weakness being that it's two styles don't completely mesh all the time though it does for the most part. Bridge of Spies was a very good drama based on a true story by the Cohen Brothers set during the cold war that kept me gripped from start to finish and is another great team up between director Steven Spielberg and Actor Tom Hanks as well as showing off Mark Rylance. There's some legitimate complaints for the film mainly its slightly one sided nature but the Americans don't come out looking incredibly well by the end. Brooklyn had an impressive start but teetered off in the middle to a disappointing end but had some excellent performances from Saoirse Ronan and Julie Walters. Mad Max: Fury Road is arguably the best action film of the last 5 years giving us some of the most fantastic scenes of 2015 backed up by some amazing practical effects backed up with CG backgrounds, amazing production design and some amazing performances from Charlize Theron and Thomas Holt plus director George Millar is on form giving us a film that is kind of light on story but still gives us a memorable tale that is my new favorite in the hopefully ongoing series. The Martian is Ridley Scott's best film in years and was really gripping story about survival and allowed Matt Damon to give a great performance plus the film really made you feel like you were on Mars and while its effects weren't as authentic as Gravity they were still really good. The Revenant is the second film in a row from Director Alejandro González Iñárritu to be nominated for best picture after Birdman (which won) and had some outstanding cinematography, action scenes production designs and performances but it was rather lacking in its story and could have been slightly better plus I think it will have limited lifespan on TV screens. Room was a truly beautiful movie about a mother and son going through and recovering from horrific circumstances from the director of Frank that manages to expertly tell its story that will leave a lasting impact, as well as great cinematography and fantastic performances from Brie Larson and Jacob Trembly. If there is a negative it's that the film is based on a novel and some moments feel very much like it belongs more in a novel than the film because it doesn't quite translate to the screen but that's a nitpick. Spotlight was a very good journalism drama about cover ups in the catholic church surrounding child rape allegations and does a good job but it does have a couple of pacing issues. This was the toughest call of all and when I looked at all 8 nominations I narrowed it down to 2 that knocked my socks off and took a real long look at both weighing up every great moment in both films and had to make the call on which one I thought was better.
And my pick is…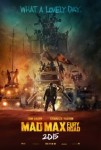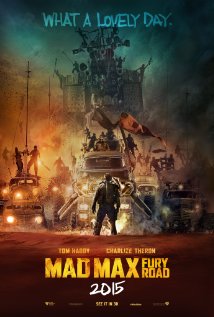 Mad Max: Fury Road. It was so close between this and Room and I almost came close to tossing a coin over it. Both were fantastic films that blew me over and I absolutely love them and I felt bad not choosing either one of them but if I had to pick one that I would have to watch over and over again it would be Max. it really was an amazing film which I have already gave 6 of my picks to and I don't think a film like this will get nominated for a long time so I'm going to savour it.
So there are my picks for the Oscars in 2016. It's certainly been a controversial build up with the boycott and argument over a lack of diversity. While I do agree it is an issue that deserves to be talked about I think there's a lot bigger problems in terms of race relations in America and Worldwide than who's got an Oscar Nomination and I also think the Academy had a really hard task picking nominations in what was a VERY crowded market though maybe Will Smith should have got a nomination (can't really comment haven't seen Concussion) and I also think Charlotte Ramplings comments while they could have had a genuine point were misjudged and extremely misguided. I also think there has been one of the strongest years for the nominations giving me no easy choices in who I'm supporting. If you want my extended thoughts on the nominations you check my reviews on 10 of the nominations
Brooklyn
Creed
The Hateful Eight
Inside Out
Mad Max: Fury Road
Spectre
Spotlight
Star Wars: The Force Awakens
Steve Jobs
Straight Outta Compton
I'll check back on my Twitter account and in the comments to how many of many picks came to be after the ceremony
Also leave in the comment section your picks for the Oscars.
For list of the oscar nominations check the link here
Calvin – Nerd Consultant
Share This Post: