---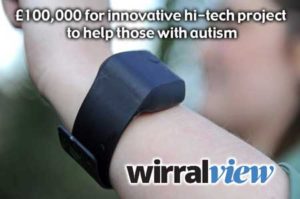 A major new project involving Wirral Council and Wirral-based charity Autism Together will be given almost £100,000 to use 'wearable technology' to help some of the most vulnerable people in the borough.
The world-first scheme, pioneered by Autism Together, will use 'biometric sensors' in the form of lightweight wristbands – similar to the popular fitness trackers such as Fitbit – to help understand those with severe autism who may otherwise find it difficult to communicate.
The council was chosen in a competitive process to receive funding from NHS Digital, as part of a project managed by the Local Government Association. They were looking for innovative ideas for how technology could help shape the future of social care.
The wearable sensors will allow researchers to spot the signs leading up to severe incidents of anxiety so they can be reduced or avoided in future, by keeping track in real time of changes in factors such as skin temperature, sweat, heart rate and movements.
---
Share This Post: