---

Launch of the new Axia-ASD
Autism Alert Card
After many months of discussing, drafting, and seeking feedback, Axia are pleased to announce the arrival of our bespoke Autism Alert Cards!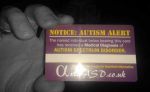 Our cards have been designed specifically for all those who have received a "diagnosis" by or through Axia ASD Ltd. We will be bringing some to our next Post-Diagnostic Support Group meeting (Wednesday 21st September between 11:00am and 1:00pm) which will be available for only £2 at the meeting to all those past and present recognised as eligible to be holders.
The "Axia-ASD Autism Alert Card" is available via post for those unable to attend the monthly Post-Diagnostic Support Groups at a cost of £3 (which includes Administration and Postage Costs). If you believe you are eligible for an "Axia-ASD Autism Alert Card" and would like to be considered, please fill in the form below or email enquiries.
---
UPDATE
As of January 2022, these have been updated here.
---
Share This Post: