---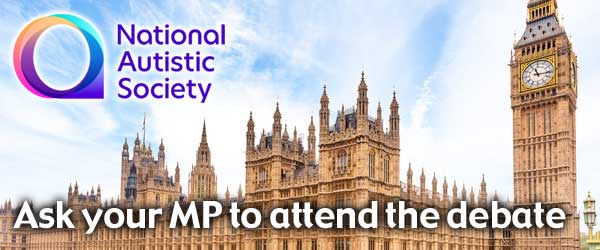 Ask your MP to attend the debate
As we build to World Autism Awareness Week (1-7 April), we want to make sure that autism is still on politicians' agenda. This April is a critical moment for people to learn about autism, for you to share your experiences and to create a world that works for autistic people.
The Rt Hon Dame Cheryl Gillan MP has secured a debate in Parliament on 21 March to raise awareness of the challenges autistic people face in their daily lives because of a lack of understanding. We know there's a lot going on in Parliament, but this is an important opportunity to make sure autistic people and their families get the time they deserve.
This is particularly timely because this year marks the 10th anniversary of the Autism Act, and the next milestone for the review of the autism strategy. That's why we need MPs to hear from you about the issues that you face and what needs to change, so that they can raise these in Parliament.
Will you contact your MP to ask them to attend and make your voice heard?
As your local representative, your MP's job is to represent you in Parliament.
We have created a template email for you to personalise and send to your MP, asking them to attend this important debate on 21 March. You could tell them more about your own experiences, to give them the evidence they need to tell the Government to make the changes so that you and your family feel included in your community.
Thanks,
Tom
Head of Campaigns and Public Engagement
---
Share This Post: