---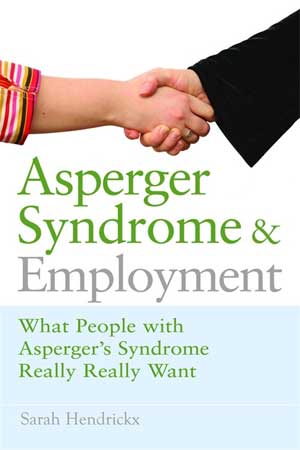 Asperger Syndrome & Employment
What People with Asperger Syndrome
Really Really Want
I initially wanted to read this book after hearing Sarah Hendrickx give a talk on the subject of employment.
She was captivating and engaging and I felt that I might gain further insights which may help my AS ( Asperger Syndrome) sons with their employment dilemmas.
This book has absolutely done that but I too (AS) have benefitted from reading it.
Work is not just a job. It's travelling, socialising, existing in environments that are alien and painful for AS people – things encountered on a daily basis wether employed or not.
What has an effect on an AS person in a work environment/situation, can be very closely linked with the efforts of trying to live in a social and largely neurotypical world.
There are frequent examples of real life experiences and these together with Sarah's writing cover a vast range of issues.
For those with AS who have never worked and wonder if they ever will;
for those who have had jobs and been bullied out of them, and for those in work but struggling – this book is a warm, understanding and practical help.
I can not recommend this book highly enough to all with AS and those supporting and caring for them, wether they may be family, friends or employers.
Helen Jones –

Guest Contributor
---
Share This Post: