---
Here's something I spotted as a news item in this week's New Scientist magazine. Computers aren't about to replace doctors any time soon but may be useful for confirmation of a diagnosis.
Martin John Reynolds

– Guest Contributor
---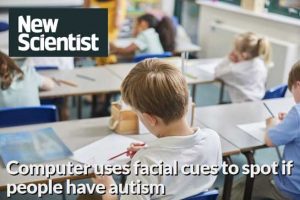 AN ALGORITHM that analyses facial expressions and head movements could help doctors diagnose autism-like conditions and attention deficit hyperactivity disorder.
There is no simple test for autism or ADHD, but clinicians usually observe someone's behaviour as part of the assessment. "These are frequently co-occurring conditions and the visual behaviours that come with them are similar," says Michel Valstar at the University of Nottingham, UK.
His team used machine learning to identify some of these behaviours. The group captured video of 55 adults as they read and listened to stories and answered questions about them. "People with autism do not always get the social and emotional subtleties," says Valstar.
READ THE FULL ARTICLE…
---
Share This Post: