---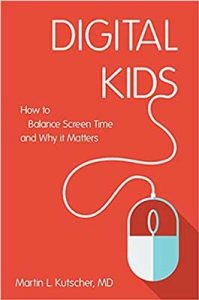 "Digital Kids"
How to Balance Screen Time, and Why it Matters
Digital Kids is a guide aimed at parents seeking control over their children's technology and internet usage. I will preface this review by saying that I do not belong to the audience this book is geared toward, however there are points of praise and criticism to be made of several aspects of the literature, so I'll dive right in.
This book was jarring for me to read.
The dialogue between author and reader is intended to promote a knowing familiarity in order to engage more effectively with the factual information that is delivered in the text. I think the conversation Kutscher aims to have is one between adults – a conversation not meant for the younger generations – covering issues from technology in education to internet addiction and more.
When I say that it's not meant for younger generations, I'm referring to some of the more interesting language choices Kutscher opts to use in place of more generic and appropriate terminology. In some instances, these attempts at humour come off as dry and inconsiderate. A good example appears in Chapter 2 (page 47), where the author discusses how we present our ideal selves on social media. Kutscher says:
We don't often get a card that says "Season's greetings. My son may be smiling in this photo, but he just got out of rehab."
A bold move to make light of issues relating to substance abuse from the author shows a fundamental lack of understanding on the social media front, while also highlighting the absence of certain filters when commenting on comparatively trivial issues.
Multiple instances of somewhat questionable term usage pop up throughout the book, giving it a patronising tone regarding younger individuals, calling them 'little angels', and likening ADHD individuals to 'moths that are always attracted to the brightest light'.
Though this may be stylistic of the author's tone, it feels a little off, and only serves to bolster Kutscher's intellectuality and come off as a bit uppity.
Language choice aside, Kutscher conveys a supposedly objective viewpoint of technology through a Pro-Con approach… except the cons heavily outweigh the pros.
All chapters wax on the negative effects technology brings to every day life, and skimp heavily on the positives. When the author delves into technology's place in education in Chapter 1, as each chapter is divided under subheadings, 14 of these sections are dedicated to decrying the benefits of technology-based learning, and one subheading explores its benefits. Bias clearly shows.
That being said, this book is not supposed to be a to-and-fro debate of how tech fits in with our lives. It's tweaked so that people understand the need for stricter parental controls on children's freedom with technology. However, what this does not excuse is a distinct lack of exploration of the benefits that digital education can have. Indeed, it is rather paradoxical that the author believes technology to carry so many negative effects (shallow reading, digital distractions, lack of a tactile experience), and yet fails to see that regardless of a parent's choice, technology will continue to evolve and work around these issues in the future.
We're at such an early stage of digitally-enhanced learning (in terms of its usage in mainstream education, and in terms of our technological limits) that it is impossible to foresee what advances are to be made, therefore I think it unfair that Kutscher is so quick to dismiss its potential benefits in favour of a more traditional learning standard.
Amongst the overblown skepticism demonstrated by the author, Kutscher analyses the benefits of internet usage for individuals on the autistic spectrum, noting that due to difficulties with interpreting nonverbal forms of communication, online messaging allows for a simplified and less stressful means of social interaction. Referencing Kuo et al (2014), Kutscher finds that social networking sites are used by around 20% of individuals on the spectrum, but beside this, many use the internet for research and consumption of media including a good portion of anime (shoutout to Asia ASD Film Society and the Anime Amigos). In addition, gaming is an area that individuals with autism spectrum disorder seem to gravitate toward, with 48% playing the most popular genre of action and shooters, and 10% – 20% playing role-playing and simulation games, not unlike Dungeons & Dragons, or Skyrim.
To conclude, though this book does contain a lot of information pertinent to the effects technology has on the lives of children, I feel, from the perspective of a young(-ish!) person, that the author makes a good attempt to touch on multiple perspectives when considering what actions to take to prevent overuse of tech.
As I stated early on, this text was not written with me in mind. Nonetheless, it was engaging, relevant and contained effective measures that parents ought to follow with regard to limiting their child's internet usage, even if the language can sometimes feel a bit off.
Renwick Bromiley

– Associate to Head of Film Society.
Please Note: The Author is American and so the terminology is affected by this.
---
Share This Post: