---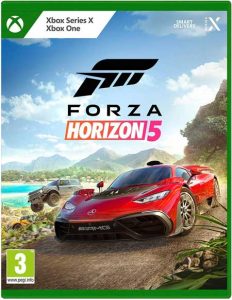 Forza Horizon 5
(Available for Xbox Series X and S, Xbox One and PC)
(Xbox Series X and S version on an Xbox Series X used for review)
Forza Horizon 5 has arrived to be a major fixture of the Xbox holiday line up, alongside the upcoming Halo Infinite. The Forza games have done a great job using real world locations to create amazing and seamless open world arcade racing games. The country chosen this time is Mexico. The game however did not have too many new features compared to that of Forza Horizon 4, though given how good that game is, a lot of people were really going with the "if it aint broke don't fix it" attitude. Once again you compete with various cars in several different events like: Road Races, Dirt Races, Cross Country Races and Street Racing with each of them, requiring a new discipline for the approach.
Pros
Open world design: I loved the open world in Forza Horizon 4 and this one is even better. I've only been to Mexico a couple times and on each occasion I never stayed overnight because I was moving on later that day, but from what I've seen the team did a great job capturing the essence and look of Mexico. Just like number 4, Forza Horizon 5 takes a few pre-established locations and mishmashes them together. In the case of FH 4, (which was based in the UK) it was kind of a mash of the coastline, the lake district, Derwent, the Yorkshire and Derbyshire countryside and Edinburgh. Forza Horizon 5 does a similar thing but with much more interesting locations, there are beaches, deserts, jungles, the ruins of locations like Chichen Itza and even a volcano. Once again, the map gives you choice of following the roads or just saying "screw it" to all driving laws and going off road to reach your destination more directly. The map is huge but not daunting, I drove from one end of the map to the other and it took me just over 7 minutes so it's not a slog to get through. Not only is the map great to explore and I really love doing it, but the way the various tracks are incorporated into the game is fantastic as well. The developers clearly looking into how to best integrate the tracks into the world they designed and succeeded very well. I didn't get a chance to really get a feel for all the seasonal changes on the map given that the season changes each week (on Friday in my case), and the game came out in early November so obviously didn't really have the game long enough to really see much of it.
Controls and gameplay:

 

The controls are very typical of racing games so if you play a lot of arcade racers or driving simulators you know what you're in for. The controls though were particularly good and worked well with the various cars making some easier to use than others. If you're struggling to control your car, it might not suit your play style so you might want to rethink which car you're using and make sure you really read over all the stats before you buy or modify one of your cars. The gameplay is also well varied. If you're getting sick of street racing swap to cross country or dirt racing or try out one of the various seasonal challenges or get a better star rating going past a speed camera the options are really plentiful and none of them feel half baked.
Graphics: Forza Horizon 5 may be one of the best-looking Xbox console exclusives available. I played it on Series X and with the visual enhancements that version gives you this game is stunning. The world is both bountiful and detailed, and amazingly has pretty much zero frame rate drops. It was a very consistent 60 FPS in performance mode (which is how I recommend playing the game) and did an amazing job of it. This series has never looked better.
Adventure missions: These were earned with experience points and were some of the big highlights of the game as they really allowed for some creative challenges and set pieces. Each one is so energetic be it exploring ruins in a storm or running away from an active volcano they really will make you feel like you've been transported into an episode of Top Gear or The Grand Tour.
Mixed
Online play: It wasn't either good or bad in my opinion. At the time I was reviewing the game I did not have my Xbox Series X connected by an ethernet port like I do with my PS5 or PC so any issues I had may be a result of that and the time of day I was playing. Although, I did run into some connection issues and was plagued with many alerts of being taken offline. When I did get the thing to work it did run very well and online play is a lot of fun however the issue, I had is the same that I've had with Forza Horizon 4 (feel free to correct me on this). I don't think the user interface with the online multiplayer is vary user friendly to the average player. It did feel confusing when I tried it out and took a bit of getting used to but once I got it going it was great, I particularly loved joining some online convoys and the races were great, I just think the game could do a better job getting you up to speed on how to use it.
Difficulty of A.I. opponents: Okay this is weird for me, but while I think the challenge in Forza is for the most part fair, I did notice that the difficulty of A.I. opponents in single player races really fluctuated often from race to race. I would go from getting beaten by most of my opponents and lucky to be placed 4th, to winning a race with virtually no competition in my next event. I think the game needs to do a better job balancing the difficulty though this was never to an absurd degree and for the most part I didn't run into too many issues because of it.
Cons
Most of the licensed soundtrack: I did like the main score used for adventures and I liked the Latin songs on the radio, which given the setting was an absolute necessity, but other than that I hated the licensed soundtrack. There's not too many good songs and they're really bland. I really think they should've played a bit more to fans of Clarkson, Hammond and May TV, and had more driving songs and classic rock or some really great Metal songs. That's what I want to hear playing a racing game like this one. Obviously, this is a 'me' thing so it won't impact the score too much and accept that this criticism would vary from person to person, but I also didn't want to leave it off and be disingenuous.
Slight advantage for those that buy the more expensive editions: I realised this because I did pre-release an expansion along with pre-ordering the game with my game pass subscription, so I had a few extra cars to test. What I found was my extra monetary spend actually got me really distinct advantage in the early game. I did several races not doing well only to use some of the cars I paid real world money for and win handily. Now you might say if you've paid for it you should get something for this, but I object to the idea that you should pay to gain an advantage. For one thing it really cuts off a big portion of the people that don't want to pay and leaves them at a disadvantage and it incentivises companies to create pay to win products.
Stop asking me if I want to change the difficulty: Whenever you get into a winning or losing streak, the game would ask me if I wanted to raise or lower the difficulty and it was so annoying. I'm glad I can change the difficulty at any time, but I really didn't need to be told that after a winning or losing streak, especially given that 2nd or 3rd place counts as a loss. While I don't think it was the intent it does come off as patronising.
Overall thoughts
Forza Horizon 5 is one of the best Xbox Console exclusives to date and is really good reason to be excited about owning an Xbox. It has a few issues, but they are trivial at times and even some I've mentioned in this review is localised to me such as the soundtrack. However, the game looks and runs amazing, the open world is breath-taking and has tons of amazing locations and tracks and has tons of set pieces that make for amazing sequences. On top of that, there's no other way of putting this, it's just really good fun. There's an addictive nature of "just one more race" or "I wonder what happens if I travel to that part of the map" or "if I just keep looking in this area, I can find the hidden barn with the rare car". I really enjoyed my time playing this and I intend to keep going. I would really urge giving this a go, this is one of the best racing games out right now.
Score: 9.3/10
The game is on Xbox Game Pass so if you're subscribed you can download it, though the editions that give you more- will cost you extra, so I would only recommend if you have trouble with racing games and want an advantage at the start. Other than that, if you're just signing up for Xbox live now, this should be high on your list. Racing fans should put this to the top of their list of what game they should be playing next.
---
Share This Post: