---
HART CLUB presents: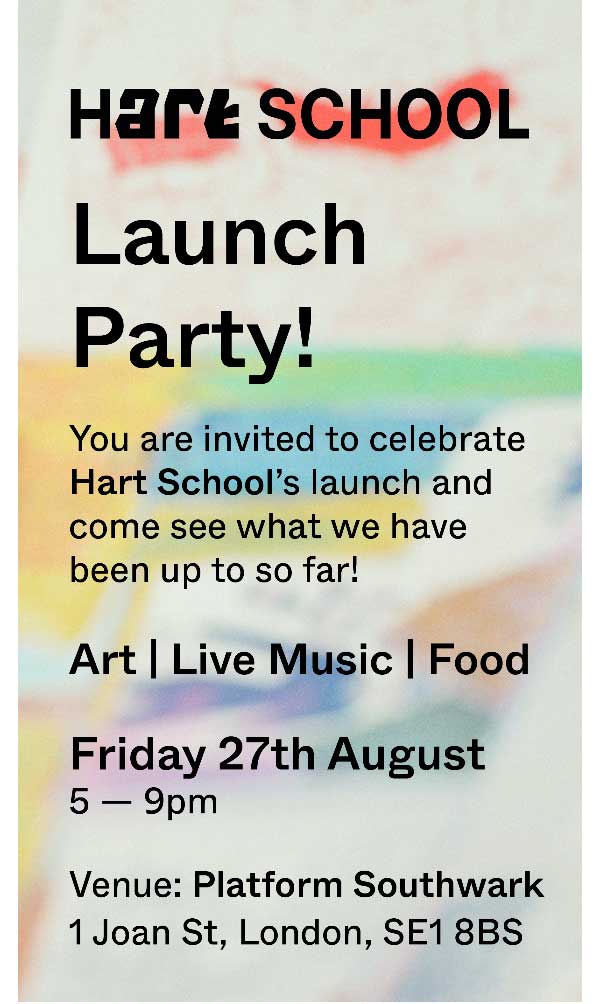 The epic fundraising efforts of the last 6 months — we raised £60k! — have merged without a moment's pause into the launch of Hart School.
In order to mark this achievement and thank those who helped us get here, we are hosting an impromptu get together this Friday. We have kindly been offered use of Platform Southwark (a larger venue than our own just down the road from Hart Club) and will be showcasing a selection of artwork made in our first few weeks.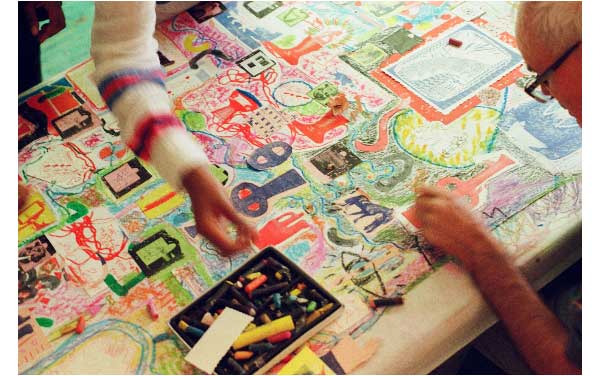 Hart School has been a forming vision for over a decade that is now in action thanks to the love and dedication of so many. It is a collaborative learning environment that disarms hierarchy and in doing so has already opened channels for extraordinary and prolific co-creativity. In the short time that Hart School has been running it is everything we imagined and more.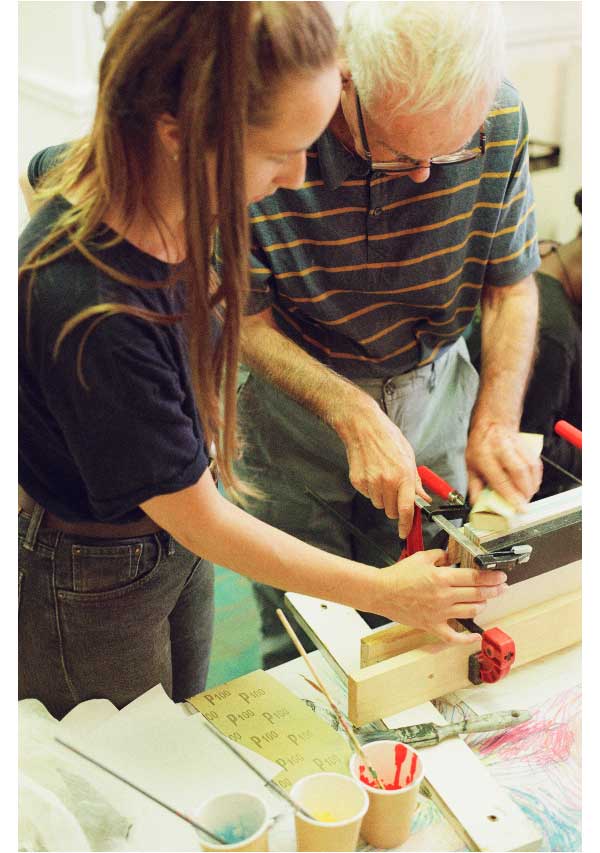 Working with Hart School artists was the most enriching experience. The outstanding talent, commitment and enthusiasm of all involved were infectious. I learned more about neurodiversity in a day at Hart School than in any of my studies.
I am very grateful that Hart School exists and that it is developing and growing. It is an important contribution to the creation of an inclusive and equal society, which is what we so desperately need right now. Thank you all for welcoming me into this wonderful family. It is an honour to be part of it and I hope to continue working with you.
— Kamila Kuc
Filmmaker, Educator and Hart School visiting artist.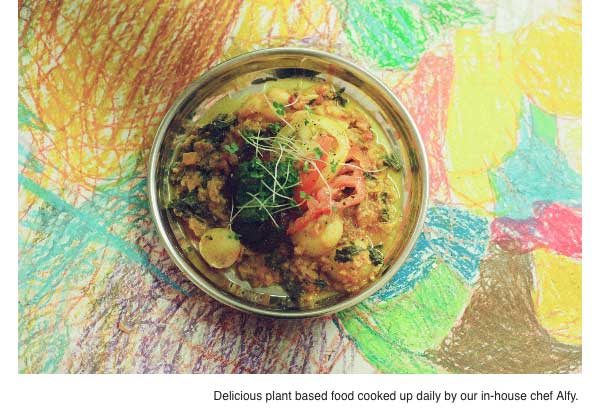 Hart School is a powerful vibrant container of radical acceptance, art, music, movement, joy, nutrition, healing, friendship and community.
If you would like to get an insight into what you have helped us to achieve we hope you will swing by.
Thanks again from the Hart Club team
& everyone at Hart School.
P.S. We know this is super last minute!
If you are unable to attend this event we will be hosting a longer exhibition of the artists' work in October.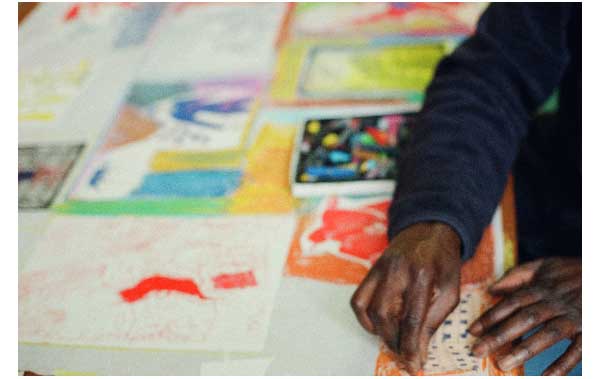 Date: Friday 27th August 
Time: 5 — 9pm
Venue: Platform Southwark, 1 Joan Street, London SE1 8BS
Transport: The venue is right next door to Bermondsey Station (Jubilee line) Please note: Bermondsey station has No Step Free Access until mid-September due to planned maintenance. Please call TFL on 0343 222 1234 if you need help planning your journey. It is also a short distance from Waterloo Station: Exits 2 (Waterloo Road) and 3 (Station Approach) are step-free.
Access: The venue is on the ground floor with an accesible toilet. There is an enclosed outside area as well as the main space.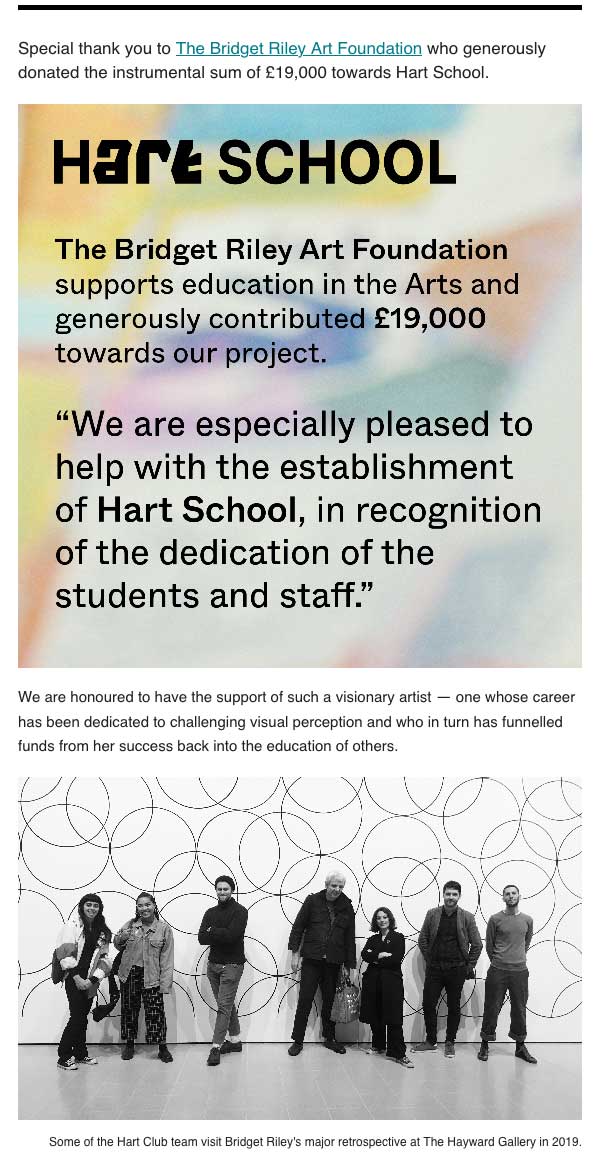 ---
Share This Post: