---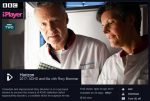 Last night I watched BBC's Horizon, which this week was a documentary about Rory Bremner and ADHD. I was particularly interested as it was a Radio 4 documentary I heard him do that  had roughly the same title which led to my initial diagnosis prior to a further one of ASD.
I just wished to let people know that it is available on the BBC's website for another 29 days. I would be curious to hear other peoples thoughts on the programme. I did enjoy watching it despite there being absolutely no mention of Autism or Aspergers. I also wonder if the extended "ginger bread man cooking session" analogy was offensive to any one else?!?
Click the image below to open BBC iPlayer.
---
Share This Post: