Yesterday I attended another excellent "Post-Diagnostic Support Group" meeting in Crewe. One of the main topics regarded "Housing" and the differing needs which those of us on the spectrum required. One gentleman took the floor and shared his own difficult experiences with, what I believe is currently called "Community Care".

Others shared some of their experiences, and a discussion ensued on where solutions may be sought to a variety of Housing problems. The National Autistic Society can be a valuable resource for information, and Axia's "Self Proclaimed Nerd Consultant" Calvin quickly started searching their site. Dr. Buchan asked if I could put a link up on Axia's website for people to be able to easily reference this material. Looking now, I see the NAS "Support Options" page goes into great detail on "Community Care" and the "Sources of Support". Click here to read it.
That page is actually a sub-section of their "Benefits and community care" information page which can be found here.
---
During the discussion I perhaps took a slight tangent onto "Council Tax", although still very much linked to the topic of housing, sharing my own experience. Briefly, it appeared someone changed some legislation at some point, and suddenly my local Council were claiming I must give them some of the money I receive as a "benefit" from the DWP. For 6 months I was in dispute with the Council, continually exchanging correspondence. This in itself MAY be important because I was not taken to Court in that time (despite a few perceived threats of such action), whilst I have heard of people finding themselves in Court after only 3 months of non-payment.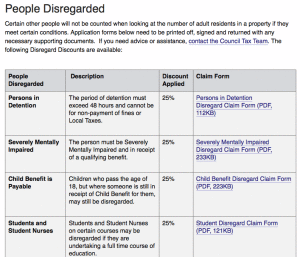 It transpired that early in the exchange of paperwork, the Council had offered me a "solution" which I had not recognised, for reasons I think which will become clear. The document was entitled "Severely Mentally Impaired Disregard Claim Form" which superficially did not appear to apply to my Self. I'm not one of the "sharpest tools in the box" for sure, but "severely mentally impaired" appeared a little harsh an epithet. My curious nature and difficult circumstances led me to look at their Form again, carefully inspecting the wording… It turns out I AM, BY THEIR "LEGAL" DEFINITION!
When I first talked to my Psychiatrist about this following my diagnosis of ADHD, he appeared somewhat shocked saying something akin to "Oh no, Doctors don't use that type of language". He looked at the Council papers I'd handed him and the "Legal Definition" which I'd highlighted:
"Paragraph 2 (2) of Schedule 1 of the Local Government Finance Act 1992 defines "Severely Mentally Impaired". It states that "a person is severely mentally impaired if he/she has a severe impairment of intelligence and social functioning (however caused) which appears to be permanent".
My psychiatrist went to his computer for a few minutes, turned back to my papers again, understood and agreed with me, and asked me what I needed him to do. I explained that it appeared to me to function as follows:
The Council need a G.P. to sign and "rubber stamp" the Council Paperwork.
However a G.P. is unlikely to be able to "Diagnose" and therefore must "Refer".
The Psychologist or Psychiatrist whom the Patient is referred to can then "Authorise" the G.P. to sign and stamp the Councils form.
The one other criteria was that I had to be receiving a "Benefit" from their list, which I was.
So my Psychiatrist sent both myself and my GP a letter stating he believed under the Council's definition I qualified for the Council Tax exemption, I visited my GP who filled the form in for me so all I had to do was sign it, and then I posted it Recorded Delivery to the Council (having also taken the precaution of photocopying all the documents!). My own experience meant I would have done this anyway, but I found it quite interesting that my GP actually advised me to do so too, commenting on the amount of post which appears to go missing when dealing with the Council. It did not take long before I received a new Bill from the Council stating I was "Not Liable" for Council Tax, and the harassment I perceived I was experiencing from them ceased.
Having shared this story, I was approached in the break by a lady who lived with her recently diagnosed son. He'd ceased being a student so the Council were demanding his mother cease claiming the 25% discount and pay the full sum (if I recall correctly). The reason she'd approached me it seems is that it had entered her mind the possibility that "If he is not liable, perhaps my son is not liable, therefore it might be I can claim a discount". Our chat was actually quite long, so I've just tried to distill her "querying thought" into what I interpreted she meant. As Council Tax is no longer a part of my life I'd not thought about it in a while, however the lady's question was curious to me…
So to do my "due diligence" I visited our "Government" website to find out what THEY said, and I was a little surprised to discover their page https://www.gov.uk/council-tax/discounts-for-disabled-people which looks like this…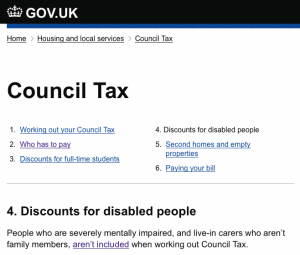 This implied to me the woman may well be right with her thought, and upon clicking the link "Who has to pay" https://www.gov.uk/council-tax/who-has-to-pay I again found myself surprised to see the below question "Who doesn't count as an adult?"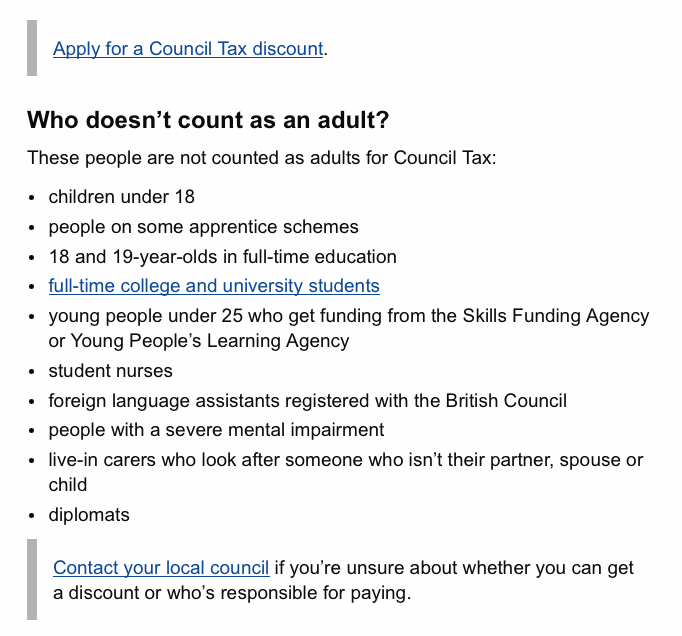 This does raise some philosophical issues for me, perhaps I must be a very old child, granted license to "play", I really don't know. What I do know, is that there are many people on the Autistic Spectrum who are not aware that by "accepting a non-medical label" they may lessen their financial hardship if Council Tax plays a role. Dr. Buchan was already aware of this situation when I was reciting my story to her during my diagnosis process, and appeared eager for me to share it again on Axia's website.
I hope the information and links above may be of some help to people.
Dream – Guest Contributor
Share This Post: