---
Would you like to take part in a study exploring differences in the language and communication skills of boys and girls on the autism spectrum?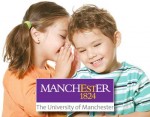 Researchers conducting this project are looking for 20 girls and 20 boys with a diagnosis from the Autism Spectrum to help with the study. That can be Asperger syndrome, autism or a diagnosis of 'pervasive developmental disorder' (PDD-NOS).
We are also looking for 20 girls and 20 boys with typical development to provide a comparison group.
The children we are looking for should be born between 1st of September 2005 and 31st August 2007.
Because of the nature of the study we are looking for children who match the following criteria;
They should have performance IQ in the typical range (i.e. attending mainstream school).

They should have English as a first language

If you are interested please visit the site HERE or click the image above.
The study will include a thorough assessment of language skills & communication abilities using standardised and specially designed assessment material.
This will take place over 3 x 1hour sessions.
The first session will require parents to attend.

The sessions can take place either in school or at home.

There will be a follow up study when the child reaches secondary school (year 8)

All findings of the child's language assessments can be shared with the family.
Share This Post: