---
Tim Nicholls, Policy Manager at the National Autistic Society
Blog, 21 July 2017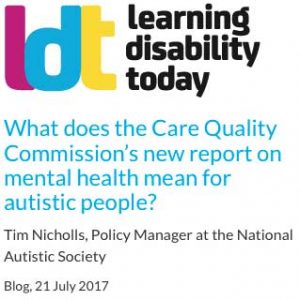 What does the Care Quality Commission's new report on mental health mean for autistic people?
The Care Quality Commission (CQC) published an important
report
yesterday looking at the state of mental health services across England. The report is based on inspections they've carried out across all NHS and independent specialist mental health services in England, between 2014 and 2017.
"In too many cases, people's care plans don't include any discharge planning at all."
Overall, the CQC found a lot of good examples of services that were supporting people well and safely. However, when we turn to the chapter looking at services for people with a learning disability and/or on the autism spectrum, there is some cause for concern, particularly around the number of autistic people in inpatient settings and excessive restraint and over-medication.
Increasing number of autistic people in hospitals
CONTINUE READING…
---
Share This Post: