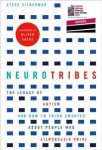 Book Review of
by Steve Silberman
Published by Allen and Unwin ISBN 9781760113643
I came to the subject of autism aged 53, around 26th November 2014, when it was suggested by a CBT professional that I might be on the spectrum. On 30th April 2015 I was given the label Asperger's syndrome by a clinical psychologist.
I've read 'The Complete Guide to Asperger's Syndrome' by Tony Attwood and various other texts and found them helpful in different ways. This is the first book that gives me a feel for the history of the subject mainly starting with the work of Kanner and Asperger in the mid 20th century. One has the feeling that this is about a civil rights movement.
At over 500 pages it takes some commitment. But I found it very much worth the journey. This is still the beginning of the road however. The era we are living in is very much a transitional one and it's what happens next that will be of vital importance.
Martin Reynolds – Guest Reviewer
Share This Post: