---
Minutes of the Thirty Sixth
Post-Diagnostic Support Group
24th April 2019
Today's group was attended by 53 people and the Autism assistance dog, Ripley.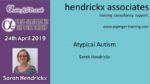 Once again a brilliant presentation from Sarah, which can be found here. It was on Atypical Autism and we suggest everyone has a listen and a look. In terms of updates from Axia, the majority of which are in our monthly roundup and we urge people to sign up for the monthly roundup, so that you can keep up to date.
We are delighted to announce a further expansion of Axia with the appointment of Paul in our admin team and Jacqui, who is going to join us in July as an Occupational Therapist. We are also delighted to announce that Cal has already started his second book, which will be around the best video games of all time.
We were joined this time by Sue Power, our Education Lead and we are keen that everyone in the service attends at least one Post Diagnostic Support Group session so that when they are attempting to explain to people what happens at the group that they are speaking with some authority. Sue spoke about some training events that we are going to be putting on at Redhill House in the training room which can accommodate 25 people and welcomed ideas as to any particular training that the group may want to avail themselves of.
We alerted the group again to the North Wales Conference and suggested that people sign up quickly so that they can get the 'Early Bird' rate [FaceBook].
---
Share This Post: