---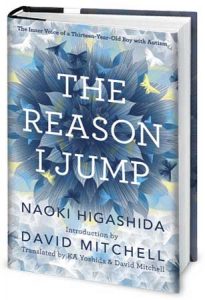 "The Reason I Jump"
By Naoki Higashida,
Introduced by David Mitchell
Translated by Keiko Mitchell, David C. Mitchell
Publisher: Sceptre
This is Naokis first book, written when he was 13 years old.
I almost didn't read this, thinking it might not have much relevance to me, being considerably older.
I couldn't have been more wrong.
Again, how wrong could I be?!
This young writer is exceptional, truthful without any frills or drama.
His writing reached the constantly sad child that I used to be, and the person I grew up to be. Someone always trying to understand a baffling world, someone who the world didn't want to bother with, and was written off, as a child and beyond.
It spoke to the child who is still within me; and it's made me think in terms of forgiveness, which is strange because I did nothing wrong, but I've spent all my life feeling that I was in the wrong.
It's been like a rather large cloud being pushed to the side, to reveal the truth. I am autistic, I am how I am, and given time, understanding, and here's the big one – encouragement, I can thrive. These things are in short supply in everyday life. Dare I say non existent, so the opposite occurs and the ensuing exhaustion from daily living takes its toll.
But in this book, there is such a depth of understanding and wisdom way beyond the authors years.
I borrowed this book, but now I am going to buy my own copy and read it again. I'm going to highlight paragraphs and write in margins.
And when I next beat myself up I'm going to read snapshots of Noakis writing, and (hopefully) feel better about myself.
Helen Jones

– Guest Contributor
---
Share This Post: