---
Jack Howes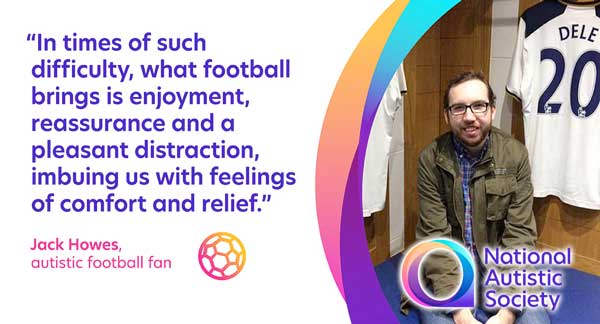 As the football season finally kicks off again, we catch up with Jack Howes, autistic man, football fan, and a Philanthropy and Partnerships Manager for our charity. Jack writes about his love of the beautiful game, and why football is so much more than just a sport for him…
Like billions across the Globe, my life features football at its core. I have spent a lifetime watching it, playing it, reading about it and talking about it. My life is richer for having football in it, though I am undoubtedly poorer for paying so much to watch it.
In my humble opinion, it is the best sport on Earth – glorious in its simplicity and egalitarian to its core. With a spherical object to act as a ball and a wall or two inanimate items to act as a goal, you can partake in the world's most popular sport. Being autistic, it has allowed me to form relationships and forge friendships that otherwise would never have been possible.
Only one in a hundred are supposedly autistic. Yet, what's amusing is to what extent football provides a life-defining structure and routine to day-to-day life for millions, most of whom are not autistic and may not even know what autism is. So many who attend matches will every week travel on the same train, drink in the same pub, consume the same half-time snack and sit in the same seat at the stadium year after year.
---
Share This Post: