---
Out and about with autism: 'If a baby starts crying, we have to leave'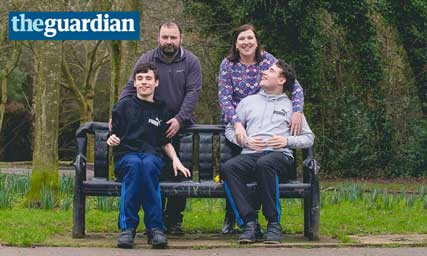 Kathy Bickerstaff and her husband with their sons Nathan and Curtis: 'It is important that they get out without us. It will be essential as they get older.' Photograph: Graham Crichton
Parents of autistic children face major challenges whenever they go outside. Here, a mother of autistic twins explains how she and her family cope when they leave the house – and what members of the public can do to help.
My husband and I have two autistic sons, 18 year old identical twins Nathan and Curtis. Taking them out and about is a big challenge.
Both boys have severe learning difficulties and are non-verbal. Curtis also has attention deficit hyperactivity disorder, obsessive-compulsive disorder and was recently diagnosed with epilepsy. They are both 6'2" – not exactly kids any more. Neither likes busy places, sudden movements or unexpected noises like traffic or a baby crying.
Preparation is always key. We use a "first and then" approach, keeping it very basic and visual, so that they know what is supposed to be happening. I might tell them: "Shopping first, then we will come home."
Read More
---
Share This Post: