---
We just wanted to make sure people were aware of the Society for Neurodiversity, and that it has been added to our "

Links

" page.
Company Secretary and Educational Lead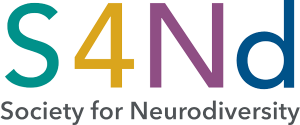 Society for Neurodiversity
Celebrating neurodiversity. Every day.
Empowering, connecting and campaigning
We are a national organisation of neurodiverse or neurodivergent people. Become a member and access services, support and networks.
Membership is free and you don't need a diagnosis.
Our members are autistic, dyslexic, dyscalculic, dysgraphic, Tourettic, dyspraxic, ADHD (Attention Deficit Hyperactivity Disorder) plus friends, family and allies.
---
Share This Post: