---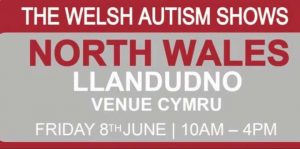 The Welsh Autism Show
North Wales – Llandudno
Tickets:
Fri, 8 Jun 2018 at 10:00
• Eventbrite
The Welsh Autism Shows provide you with face to face access to the services, resources and provisions that are there to help individuals and families living with autism, and the professionals that support them.
A full day packed with exhibitors showcasing their products and services, seminars on topics that matter, and the opportunity to meet with other individuals, families and professionals – all to help you get the help you need.
The shows comprise of 3 national events held annually in South, North and West Wales, giving local communities the chance to access these services.
The flagship show is held in the Cardiff City Stadium in the Capital of Cardiff and is attended by over 1400 delegates. The 'Roadshows' are held in West Wales at Aberystwyth and North Wales in Llandundo.
---
Share This Post: