---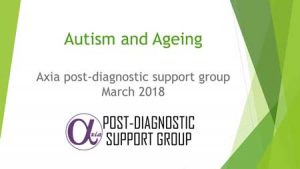 We have often had requests for the presentations given at our Post-Diagnostic Support Group to be made available on our website. We have uploaded some of our Presenters slide shows before, however, thought adding audio would give more context and information.
Axia are very pleased to be able to share this first talk and slide presentation with you:
---
Autism and Ageing
Axia post-diagnostic support group March 2018
Hannah Williamson
Trainee Clinical Psychologist
Axia-ASD Ltd/University of Liverpool
---
It was obviously important for us to protect the privacy of those attending the group, and as Hannah has since pointed out, there were some very valuable contributions from the audience sharing their experiences in what was a very interactive talk, which sadly had to be edited out.
I have tried to retain the "essence" of the interactive nature of the talk, but as Linda pointed out, the microphones were only intended to record Hannah. I think this issue is something we will be discussing in the group on their feelings for future guest presentations.
Dream


Guest IT Consultant
---
Share This Post: