---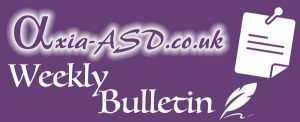 Another busy week here at Axia with our clinicians carrying out excellent work.
We would like to remind everyone who has upcoming appointments with us that we are still able to conduct face to face assessments.
All staff and visitors are required to wear masks in the communal areas of the building, unless exempt. We are still observing the Social Distancing rule of 2 metres and have hand sanitiser available in all of our clinic rooms and offices, in addition to those positioned around the building. Visitors are reminded to keep themselves and others safe by using the hand sanitiser provided before entering and leaving the building. Our clinic rooms allow the space for Social Distancing of 2 metres so families and individuals can remove their masks, if wearing, once inside the room should they feel more comfortable in doing so.
As you may be aware, today is 'Christmas Jumper Day' which is an event to raise money for 'Save the Children'. Many thanks to Alex for arranging the Axia team's involvement with the event again this year and to everyone for wearing some excellent jumpers!
This week saw the first ever 'virtual' interactive PDSG take place. It was a great success and I am glad that those of you who joined were able to do so without any technical issues. Thanks again to all of the team who worked so hard to make this happen and we look forward to offering more virtual PDSGs in the New Year.     
This week we shared information about a consultation: 'Welsh Government seek views on the draft Code of Practice and supporting guidance for Autism services'. I hope that many of you will share your views as part of the process.
Calvin posted reviews again this week, sharing his thoughts on the game 'Demon's Soul's 2020' and also for 'The Film Society' a discussion about 'Why a Christmas Carol (1999) is my favourite', getting us all in the festive spirit.
Our last Weekly Update of 2020 will be next week, Friday, 18th December 2020. Axia will close for our Christmas shut down on Wednesday 23rd December 2020 and will reopen on Monday 4th January 2021.
Please be aware that the Admin Team will be unavailable on the afternoon on Friday 18th December 2020 from 12pm – 4:45pm as they will be taking part in a mandatory training event. During this time telephone and email enquiries will not be answered, however, please be assured that the team will begin responding to all messages and emails from 9am on Monday 21st December 2020.
Calvin and Ren streamed as usual this week. The game was 'The Last of Us Part 2' on Tuesday. They will be streaming again later at 7:30pm, and tonight the game will be 'Devil May Cry 5 Special Edition'.
I wish you all a lovely weekend.
Company Secretary and Educational Lead
---
Share This Post: