---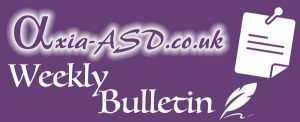 Spooky Season continues!
Another busy week here at Axia with our clinicians carrying out excellent work.
Just a reminder to those of you who are due to visit us for face-to-face appointments, all staff and visitors are required to wear masks in the communal areas of the building, unless exempt. We are still observing the Social Distancing rule of 2 metres and have hand sanitiser available in all our clinic rooms and offices, in addition to those positioned around the building. Visitors are reminded to keep themselves and others safe by using the hand sanitiser provided before entering and leaving the building. Our clinic rooms allow the space for Social Distancing of 2 metres so families and individuals can remove their masks, if wearing, once inside the room should they feel more comfortable in doing so. There is also a separate entrance and exit to the building to avoid congestion at the front door.
If you have a virtual appointment with us, please see the post: 'Advice for those Attending Virtual Appointments'.
Announcements
The recordings from October's Post Diagnostic Support Group are now available.
Huge thanks to Linda for her presentation on Stress, PTSD, and Autism.
You can find the recording here.
A member of our Facebook group wrote a poem following their diagnosis.
This is truly heart-warming and shows how important diagnosis can be, and why we are so passionate about what we do.
Thank you to Luca Hayes-Walmsley for this wonderful contribution.
The National Autistic Society has launched a new Autism Inclusion award for mainstream schools and education settings. Read the article here!
We posted some important information about Where to get Urgent Help for Mental Health. This information will also be available as an audio recording which can be heard by telephoning our office number – 01244 567656 – and selecting 'Option 2'.
The National Autistic Society is holding an online Autism and Education Conference on 11th November 2021. See further details in our post here.
Media
This week, Cal reviews the latest Bond movie to hit our screens: No Time To Die.
Read the full review here.
Elliot reviews the latest game in the Tales series: Tales of Arise. Find out how it fares in the review here.
Last week Cal reviewed the games Super Monkey Ball: Banana Mania, and Kena: Bridge of Spirits.
Cal and Ren continued their adventures in Ender Lilies on Tuesday. If you missed it, you can find it here!
There will be no stream tonight as Cal is taking some well-deserved Annual Leave!
Please Note: Some content may not be suitable for younger audiences.
Wishing you all a lovely weekend!
Eli Parry


Administrative Assistant
---
Share This Post: