---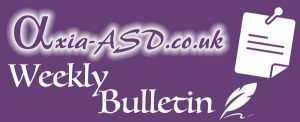 Another busy week here at Axia with our clinicians carrying out excellent work.
This week we posted an article from 'The Guardian: Dara McAnulty becomes youngest ever finalist for Baillie Gifford prize': a fantastic achievement for someone just 14 years of age. We also shared an article from 'The Daily Record: DWP announces crucial PIP change' which could make the claims process quicker and easier for applicants. Let's hope that this is the case. We also posted an announcement that 'The National Autistic Society are once again delighted to partner with the Autism Show.' This year the show has gone digital and will be taking place as a 'Webinar Week 12 – 17 October 2020'.
As some Universities open their doors to students, Esme and Ren both return to their studies after an extended summer of shadowing clinical work here, as well as being a fantastic addition to the Admin Team. We would all like to thank them both for their hard work and to wish them well in their second and final years respectively. We look forward to seeing them again during the holidays. Of course, Ren will still be around as one quarter of the Anime Amigos!
You may also remember that a much missed member of the Axia Team was also starting University this September. Amy-Louise has begun her studies this week and has made an excellent start. She is now completing Adult Nursing and is really excited about the course and the opportunities available to her. All of this alongside being a wonderful mum. Well done Amy-Louise!
Calvin is back at the cinema today watch a film that I am definitely interested to hear his thoughts on: "Bill & Ted Face the Music'. However, today you can read his review of the Disney live action remake of 'Mulan'.
Calvin and Ren have been streaming as usual this week. On Tuesday they continued with 'The Last of Us Part 2' and later, at 7:30pm they will be playing Final Fantasy IX'.
I wish you all a lovely weekend.
Company Secretary and Educational Lead
---
Share This Post: