---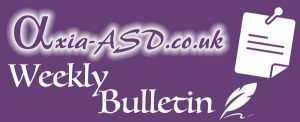 Another busy week here at Axia this week with six diagnosticians carrying out sterling work. It was also a very sad day today as we said goodbye to Evie Connor, who is relocating back to Scotland. She will still be part of our team but we will miss seeing her lovely face and fantastic humour in the office every day.
Although the government has reduced the Social Distancing measurement from 2 metres, we will still be observing the rule of 2 metres. Red Hill House is still maintaining this distance too and signs are around the building to remind businesses and visitors about this.
This week, you may have seen our post about the National Autistic Society's survey to help them shape their future strategy. I would encourage as many of you to complete it as possible.
Calvin has been working hard on his game reviews, which have been posted this week, as well as a review of '5 Ways an Ending Can Ruin a Movie'. Calvin and Ren have also been streaming as usual on Tuesday and Wednesday and will be streaming again later at 7:30pm. The game later will be 'Final Fantasy IX'.
Wishing you all a lovely weekend.
Dr. Linda Buchan
Consultant Clinical Psychologist
& Director of Axia ASD Ltd.
---
Share This Post: