---
DYSPRAXIA FOUNDATION
From Childhood into Adulthood: Living and working with Dyspraxia/DCD
---
A full day event to find out more about practical play and leisure ideas, parents reported anxiety in children, hear real life experiences plus the opportunity to chose a workshop for adults young people (16—25) with dyspraxia.
---
Saturday 22nd June 2019
10.00am — 15.45pm
The Terrace Suites, Norton Rose Fulbright
3 More London SE1 2AQ
All Dyspraxia Foundation members are cordially invited to the Annual General Meeting (AGM) with registration at 10.00am followed by a Conference for parents, carers, young people (16—25) and adults with dyspraxia, professionals in health and education, teachers, SENCos, Learning Support Staff, employers and anyone with an interest in neurodiversity. We are delighted to welcome guest speakers; Emma Lewell-Buck MP, Sally Scott-Roberts, Katherine Maw and Mark Robinson as we focus on sensory motor skills, anxiety, along with real life experiences. We are very pleased to offer a choice of workshops for dyspraxia in adulthood or youth covering employment and the opportunity to hear inspirational life experiences.
Fees
Non-member £60
DF Standard, Adult, Professional, Corporate members £35
Job seekers/students £15
Delegate packs available online. Printed copies £5
Fees include refreshments, lunch, information and resources.
Closing date: Friday, 14th June 2019
Our thanks to Norton Rose Fulbright for kindly sponsoring his event
For further information please contact
Dyspraxia Foundation, 8 West Alley, Hitchin , SG5 1EG
Tel: 01462 455016 Fax: 01462 455052
www.dyspraxiafoundation.org.uk
Email: admin@dyspraxiafoundation.org.uk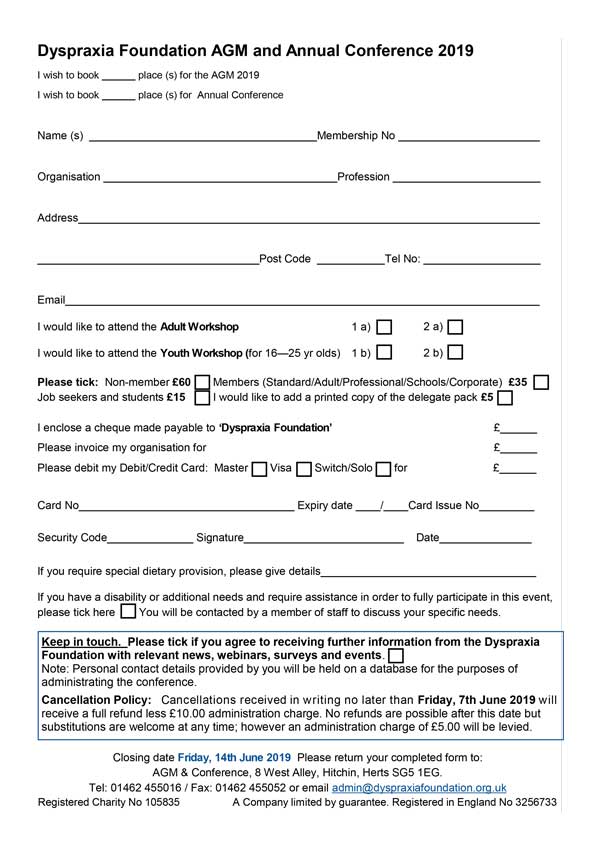 ---
Share This Post: