---

Whilst we like to keep you informed of what is happening here at Axia, we thought it would be good to let you all know about of some of the fantastic work other organisations are carrying out during these challenging times.
Our friends at 'Emerge Community Arts' have been working hard to keep people connected by developing a programme of online workshops for people to participate in.
Founders, Anna and Jamie, are committed to helping others; their passion and enthusiasm for music and drama has allowed them to engage with countless individuals with a range of challenges. The work they do is invaluable in reaching out to some of the most isolated and vulnerable people in society, offering fun and acceptance in an inclusive environment.
For more details about the activities and opportunities provided by Emerge Community Arts, please read the post below and visit their website, Facebook and Instagram pages.
Cal and Ren's
YouTube
stream tonight will be Final Fantasy IX or X
Company Secretary and Educational Lead
---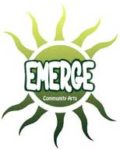 Hope you're keeping well under the circumstances! Eek. We have been working hard to get activities up and running on-line. See below.
We want to share with you the work we have doing in response to the Corona Virus pandemic. A worrying time for everyone we have been concerned for our participants well-being across all of our projects. To combat the isolation and confusion and remain connected with each other we acted promptly to get an on-line service up and running to support and engage people through this situation.
Using platforms that are accessible to our members we have regular personalised 1-1 Music, Movement and Drama workshops running throughout the days. This means people can still come together, make music, socialise, share news, develop new skills, and feel the community spirit that is not lost during these difficult times.
The sessions have had a positive response, people look forward to their weekly sessions, focusing on activities that are positive and fun and can often involve the whole family! One Mum said
'What a fabulous idea and such a lift for people when they are stuck at home…they clearly enjoyed it and we appreciate all your efforts to enrich our young peoples lives at this time…'
As you can see this has been a positive response and is working really well, if anyone would be interested in accessing this service please let us know.
---
Share This Post: