---
What I wish I'd been told earlier about how to manage sensory overloads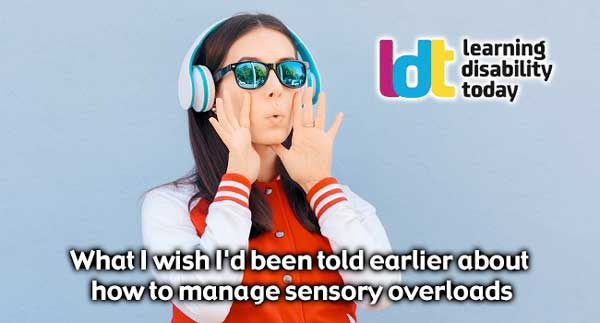 17-year-old autistic author Siena Castellon describes the mitigating steps she follows.
Sensory overloads are one of the most challenging aspects about being autistic. Our heightened senses and inability to filter sensory information can negatively affect our physical and emotional wellbeing. Sensory overloads can also cause meltdowns and shutdowns. Unfortunately, since most people don't experience sensory overloads, they can't fully understand how distressing, overwhelming and painful they can be. Although our sensory issues will never go away, there are ways to manage and reduce your sensory sensitivities that can significantly improve your daily life.
Below are some suggestions:
Communicate – Don't assume that people who are not autistic experience sensory input the way that you do. When I was younger, I made the mistake of assuming that others experience the world in the same way I do. They don't. It's up to you to spell it out to them. Make sure that you communicate as much information as you can about your sensory sensitivities. Be very specific. The more information you provide to those around you, the better their understanding will be of your sensory triggers and how they affect you. Once they're aware of your sensory triggers, they'll be in a much better position to support you and help you to manage and if possible, avoid them.
Sensory Survival Kit – One of the most effective ways of managing sensory overloads is to create a sensory survival kit that is customised to your specific needs. In my sensory survival kit, I always have a noise-cancelling headset. I find that listening to music is the best way to survive sensory intolerances. I also have several roll-on aromatherapy oils to neutralize nasty smells. I particularly like lavender and ginger. I roll the oil on to my nose to block out unpleasant smells. I have Tiger Balm to rub on my skin in case someone accidentally bumps into me. I find the menthol cools, tingles and soothes the area. I always have two pocket- sized tissue packets, which I place in the two back pockets of my jeans so that I can create a seat cushion when I am sitting in an uncomfortable chair for a long time. I have wet wipes, because I hate getting sticky and powdery substances on my hands. I have a menthol lip balm, because I dislike the sensation of having dry lips. I also have extra hair bands, which I can discreetly use to fidget with when I get distressed. I am always adapting my survival kit for different situations. For example, I change my survival kit to adapt to seasonal changes and for air travel.
Your sensory survival kit may look completely different from mine. The important thing is to include items that will help to neutralize some of the unpleasant sensory experiences you regularly encounter.
---
Share This Post: