---
I am mum of four living in Hertfordshire. Two of my children are diagnosed with autism. My daughter who is 7 is also visually impaired and a wheelchair user.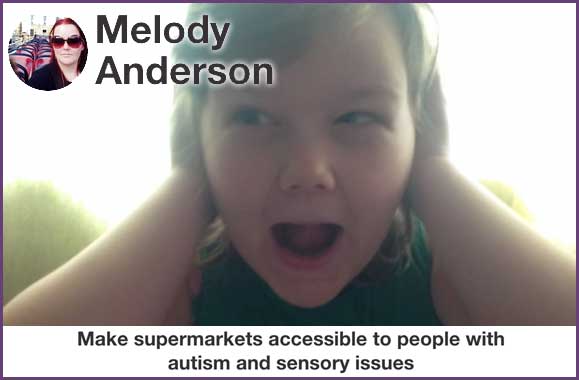 Everyday life can be tough for our family. A simple trip to the shops, especially the supermarket, can be an extremely difficult experience. That is why, I'm calling on shops to be accessible.
Bright fluorescent lighting and lots of unnecessary noise is extremely overwhelming causing sensory overload to my children to the point of meltdown; which can be dangerous.
Supermarkets are beginning to implement disability awareness training to their staff. And some individual stores also recognise the needs of their customers trialling occasional 'quiet hours' focusing on autism, dementia and hearing loss needs.
This shows that they accept the needs of their customers and that they are capable of making adjustments -but they are not doing it all the time. This makes no sense! And they are failing in their legal duty under the Equalities Act 2010 to implement adjustments to remove barriers.
This issue makes my children feel that they are not included in their community and that those with hidden disabilities should be grateful for tiny crumbs of inclusion.
If our children cannot shop there, they can never expect to be able to work there. In fact, only 32% of adults on the autism spectrum are in any type of paid work [1].
Let's start by calling on Sainsburys, Morrisons, Asda and Tesco to make ALL reasonable adjustments including:
Removing all unnecessary noise such as piped-in music and removing/minimising tannoy announcements
Dimming or changing fluorescent lighting
This will make stores accessible to thousands if not millions of people with conditions such as autism, ADHD, dementia, hearing loss, visual impairment and anxiety and many many more.
Please sign and share this petition.
Thank you!
SIGN THE PETITION
---
Share This Post: