---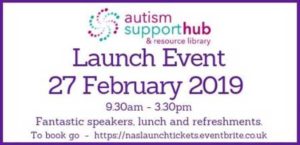 Jamie and Lion gave an excellent presentation today.
Going to give Calvin's book to the new NAS resource centre in Greenbank school.
Shona Davidson spoke about Challenging behaviour:
Who is challenging whom
Thought provoking.
She is going to be speaking at the North Wales conference on
Fabricated and Induced Illness.
Odd girl out author, Laura James, gave an extremely interesting talk on her story.
The final speaker, Jessie Hewitson, was also like the previous speakers, inspirational.
Sue and I privileged to have attended.
Dr. Linda Buchan
Consultant Clinical Psychologist
& Director of Axia ASD Ltd.
---
Share This Post: