Minutes of the Fifthteenth
Post-Diagnostic Support Group
21st September 2016
Today's group was attended by 33 people.
Items discussed were:
Linda introduced the team members present to the many new attendees. Linda then introduced David who was delivering this month's presentation.
David spoke about Pathological Demand Avoidance explaining the terminology to the group as well as providing many examples to put the terms into context. Several discussions took place within the group with many sharing their experiences.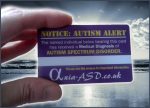 During the refreshment break Carly was able to hand out our Autism Alert Cards to people wishing to purchase. These cards will be available at each group in future also.

Linda then spoke to the group about Axia ASD's recent attendance at the Autism Europe International Congress and provided our feedback of the event.
Cake of the Month will be slightly delayed but will be posted on our website ASAP.
Share This Post: