---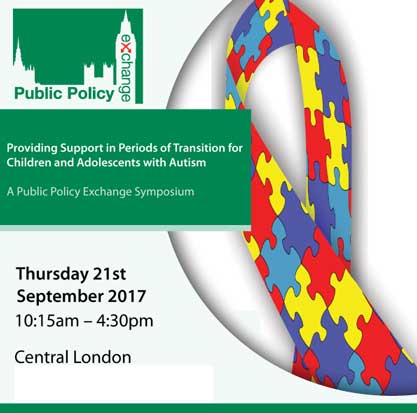 Public Policy Exchange Event
Providing Support in Periods of Transition for Children and Adolescents with Autism
Central London
According to the National Autistic Society, it is estimated that there are currently 100,000 children in the UK with autism. This equates to 1 in 100 children living with the condition. Change and periods of transition are difficult for people with the condition, due to an impaired flexibility of thought. Statistics from the National Autistic Society state that 70% of children with autism are educated in mainstream schools. At the same time, 60% of teachers in England feel they haven't received adequate training to teach children with autism. Naturally, this has a detrimental effect on their ability to help children through periods of transition.


In an attempt to support social services, families, and care staff, the government produced the Children and Families Act 2014. The Act outlines provisions for children with disabilities and provides guidelines for statutory services regarding provisions to support children and their families. Coincidentally, in order to provide support for teachers, family members, and social services alike, organisations such as the Autism Education Trust and the National Autistic Society have produced toolkits and briefing papers to guide stakeholders who care for children with autism through periods of transition. These toolkits provide invaluable information on how to strategise and prepare for changes, such as moving and leaving schools. 


However, due to recent cuts in social services, coinciding with a lack of training for support staff and teachers, there has been a real gap in care for adolescents with autism. Some of the main areas of concern include: a lack of information sharing between primary and secondary schools, preparing for puberty, and supporting parents and unofficial carers; all of which require addressing urgently.
In light of these continuous challenges, this symposium will provide social workers, teachers, and family support workers an invaluable opportunity to explore new methods in dealing with adolescents with autism during periods of transition. It will also provide quality information on how to support families, inform teachers, and provide strategies in helping children and adolescents transition from one phase to another.
Delegates will:
Assess the impact the Children and Families Act 2014 has on children and families dealing with autism
Share best practices on information sharing in preparation for change, using the transition from primary to secondary schools as a case study
Highlight the benefits of a shared-stakeholder approach to caring for children and adolescents with autism in transition, promoting enhanced co-operation between teachers, care workers and families
Receive information in dealing with emotional transitions as well as physical – Preparing children with autism for adolescence and, in particular, puberty
Learn how to support families who are having difficulty with children and adolescents with autism
Discover new means of information sharing with teachers, families and social services – Optimising outreach during times of increased financial pressures
Be provided the opportunity to promote best practices with leading individuals in the field – Discuss insights into their challenges with children and adolescents with autism
Deliberate best practice amongst peers – Promoting cooperation amongst professionals during a difficult period for social services
I am pleased to advise you that we offer a 20% early registration discount off the standard delegate rates (subject to type of organisation and terms and conditions) for bookings received by the 18th August 2017. For further details about the symposium, please refer to the enclosed event brochure. Do feel free to circulate this information to relevant colleagues within your organisation.
In the meantime, to ensure your organisation is represented, please book online at your earliest convenience in order to secure your delegate place(s)
Kind regards,
Conference Team
Public Policy Exchange
---
Share This Post: