---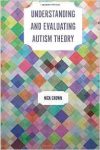 "Understanding and Evaluating Autism Theory"
Nick Chown is an independent Autism Researcher and Trainer who was one of Luke Beardon's PhD students.
The book focuses on the main theories of Autism, in particular, executive functioning, central coherence and Theory of Mind, however, it does bring along some alternative theories and ideas and is described as a complete guide for students in Autism related courses.
It brings together a thorough compilation of the most important Autism theories for the first time with all the necessary information to inform the academic study of Autism Theory in one place.
Luke supervised Nick Chown's PhD which is summarised in this book and if you do get to read the book you will see much of Luke's work in it, particularly around the myths of Autism.
I shall be bringing the book the next monthly post-diagnostic support group.
Dr. Linda Buchan
Consultant Clinical Psychologist
& Director of Axia ASD Ltd.
---
Share This Post: