---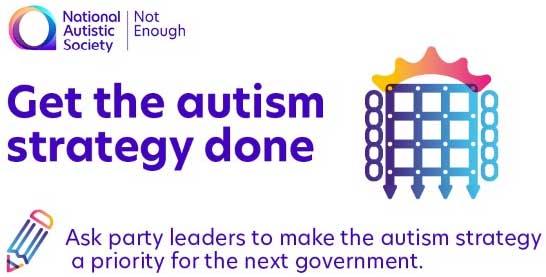 Sign our open letter
As you know, more than two in three autistic adults aren't getting the support they need – that could be up to 327,000 people struggling to get through their day-to-day. We have the opportunity to change this with the new autism strategy – but we need to make sure it isn't ignored.
The new autism strategy will lay out the Government's plans to improve services and support, and has the potential to transform the lives of hundreds of thousands of autistic adults and children in England. We were expecting the strategy to be out before the end of the year but, due to the General Election, this will now be delayed.
Linda, 327,000 autistic people can't afford to wait. The autism strategy has to be published as soon as possible by the next Government.
Right now, politicians are trying to win our votes, so we have the chance to tell them what we want. We're taking action by writing to all the party leaders urging them to get the autism strategy done.
Will you join us by adding your name to our letter? The more signatures we have, the louder our voice will be.
Your support is a huge asset. Together, we can hold decision-makers to account and make sure the new autism strategy works for autistic people and their families.
Thanks,
Beth
Campaigns Manager
P.S. We'll be handing in the letter before the election on 12 December.
---
Share This Post: