---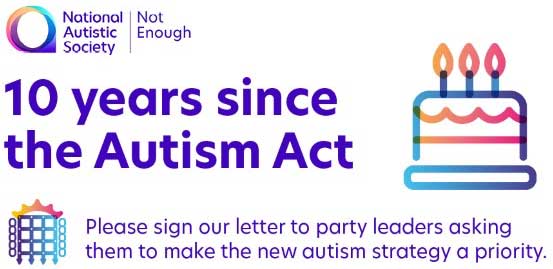 Can you help us reach 10,000?
Right now, party leaders are busy trying to win your vote. They're listening to what the public want from their next Government and we have something important to tell them: publish the autism strategy as soon as possible. We're taking action with an open letter to all the party leaders. We're so close to our target of 10,000 signatures – will you help us get their attention by adding your name?
We know that there is not enough support for autistic people and their families. Autism diagnosis waiting times are far too long and accessing mental health services is a nightmare.
The new autism strategy is our opportunity to change this but we have to make sure it isn't ignored. The strategy will lay out the Government's plans to improve services and support, and has the potential to transform the lives of hundreds of thousands of autistic adults and children in England. We were expecting the strategy to be out before the end of the year but, due to the General Election, this will now be delayed.
This isn't good enough. We're taking action by writing to all the party leaders urging them to publish the autism strategy as soon as possible.
Will you join us by adding your name to our letter? The more signatures we have, the louder our voice will be.
Support from you is important because it shows that we are united in creating a world that works for autistic people. Together, we can make sure that autism is a priority for our next prime minister.
Thanks,
Beth
Campaigns Manager
P.S. We'll be handing the open letter to leaders before the election, but we need 10,000 signatures to show there is mass support for the autism strategy!
---
Share This Post: