---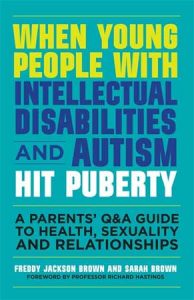 "WHEN YOUNG PEOPLE WITH INTELLECTUAL DISABILITIES AND AUTISM HIT PUBERTY:
A PARENTS Q & A GUIDE TO HEALTH, SEXUALITY AND RELATIONSHIPS"
Foreword by Professor Richard Hastings, who some of you may remember, has spoken at various conferences that we have attended.
Whilst it talks about young people with intellectual disabilities and Autism, there is plenty in there for families whose children do not have intellectual disabilities.
The chapters start off with the importance of sexual education, it doesn't shy away from thinking the unthinkable (sexual abuse).
It then talks about puberty and how some people might struggle with that, for example, with hygiene and so on and how much should or should not, parents do.
It also looks at some behaviours that can be somewhat challenging as young people develop and explore their sexuality. It talks about the importance of relationships and where people stand in relation to sex and the law.
This is a book that we would recommend for parents whose children are approaching or going through puberty and will be bringing it along to our next Post-Diagnostic Support Group on 14 March 2018.
Consultant Systemic Psychotherapist
Deputy Director Axia-ASD
---
Share This Post: