---
University of Liverpool
Autism Research Recruitment Advert
Do you have a diagnosis of autism?
Are you aged 16 – 25?
If so, we want to hear from you!
---
What is this about?
We are conducting a research project to learn about young autistic peoples' identities when they are online and offline, and how this impacts on their mental health.
We will research this through interviews (telephone or online live-chat).
The research will help us to understand identity development and identity challenges for autistic people, and will contribute towards a Doctorate in Clinical Psychology thesis.
Who can take part in the research?
People who are aged between 16 and 25
People who have received a diagnosis of an Autism Spectrum Condition (including Autism Spectrum Disorder, Asperger Syndrome, High Functioning Autism, Pervasive Developmental Disorder)
People who have

not

received a diagnosis of Intellectual Disability or Learning Disability.
People who are fluent in the English language and currently live in the UK.
Who is doing the research?
The research is being conducted by a Camilla Smith, a doctoral student at the University of Liverpool.
Milissa Chapple, an Expert by Experience/Autism Advisor, is advising on the research project.
The research is being supervised by Dr Kerry Woolfall and Dr Andrea Flood (the University of Liverpool) and Dr Jo Hearne (Mersey Care NHS)
What happens next?
Please email Camilla (email address: Camilla.Smith@liverpool.ac.uk) if you want to take part in this study or would like more information.
An information sheet will then be sent to tell you more about the research.
Everyone who takes part in this study will be entered into a prize draw to win an Amazon voucher as a "thank you" for their time.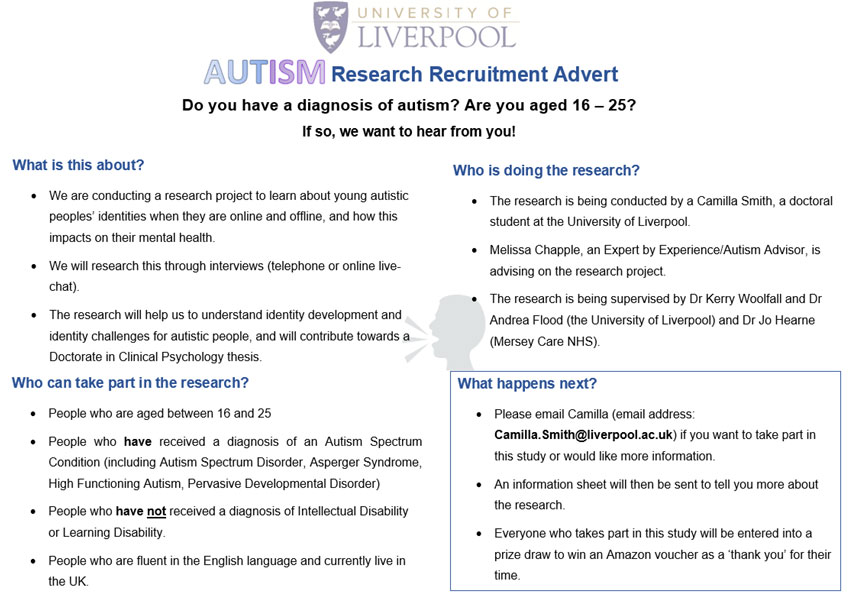 ---
Share This Post: