---
This is a difficult watch but needs to be listened to

Sadly in my opinion telling us what we should already know 

To paraphrase Dr Luke Beardon

Autism + Environment = Outcome

It is everyone's responsibility to try to provide the environments we know work for people 
Dr. Linda Buchan
Consultant Clinical Psychologist
& Director of Axia ASD Ltd.
---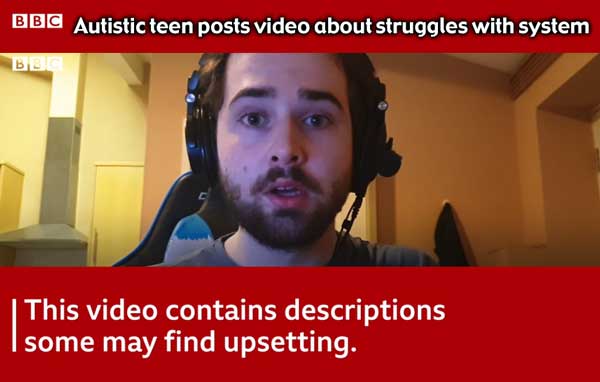 Autistic teen posts video about struggles with system
Campaigners say autistic people are being left to "fall through the cracks" by the social care system.
Analysis carried out by the Health Foundation for BBC News suggests around 10 per cent of social care staff have had any training in how to support people with autism.
And the National Autistic Society say more than 300,000 people are not getting their needs met by their local social services. That's despite 5.6 billion pounds – 40% of local authority spending on social care – being spent on people with learning disabilities and autism.
The BBC's Jeremy Cooke has been to meet one family who feel completely failed by the health and social care system.
---
Share This Post: