---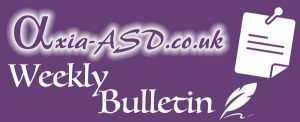 Another busy week here at Axia, with six diagnosticians carrying out fantastic work. We have had lots of happy families this week, including another Anime fan who went away with a copy of Calvin's book, 'The Nerd Consultant's Guide to Anime'. We still have a few hard copies available for the offer price of £25 (RRP. £49.99) which can be purchased by contacting our offices. It is also available as an ebook. Please see here for further details:
This week should have been our scheduled Post Diagnostic Support Group in Crewe. As we could not meet in person, Sarah Hendrickx created a brilliant presentation "Autism in Lockdown' where she shares her thoughts and experiences, both positive and negative during this time. Lots of humour as always!
This week we have shared many interesting articles, including 'The National Autistic Society's' Latest Updates and Events, Jack Howes 'Stories from the Spectrum', their response to 'Black Lives Matter' as well as Matt Richardson's Awesome Quiz which is in aid of the charity. Remember, if you want to be involved with supporting them and the fantastic work they do, you can do so here: https://www.autism.org.uk/get-involved.aspx
We are pleased to share today 'Emerge Community Art's' Newsletter which celebrates the excellent work they have been carrying out during lockdown, which was made possible by Anna and Jamie working tirelessly to transform the way they deliver their services. Their work is so important to many vulnerably individuals and their families; they really have been making a difference.
Ren very helpfully shared details of a fantastic Autistic led online conference 'Autscape 2020: Vision'. This is a really exciting event which many of you may like to join.
Calvin has been working hard on his game reviews; some of you may have read his thoughts on 'Bloodstained: Curse of the Moon 2'. Calvin also published his "30-Day Film Challenge" earlier today.
Calvin and Ren have been busy with their streams again this week. On Tuesday they played 'The Last of Us' and then 'Jackbox' on Wednesday, which was the last of weekly streams.
They will be streaming later as usual at 7:30pm, playing 'Final Fantasy IX'.
I wish you all a lovely weekend.
Company Secretary and Educational Lead
---
Share This Post: