---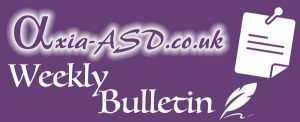 Happy New Year and welcome to Axia's first 'Weekly Bulletin' of 2021.
As usual, another busy week here with our clinicians carrying out excellent work.
Our first post of the year was on New Year's Day, where we confirmed that Axia will remain open as an 'Essential Service' in under Tier 4, and then we posted further advice for those of you with upcoming appointments with us: 'Axia ASD to Remain Open as an Essential Service' following the Government announcement on Monday.
To summarise, we are still able to conduct face to face assessments.
All staff and visitors are required to wear masks in the communal areas of the building, unless exempt. We are still observing the Social Distancing rule of 2 metres and have hand sanitiser available in all of our clinic rooms and offices, in addition to those positioned around the building. Visitors are reminded to keep themselves and others safe by using the hand sanitiser provided before entering and leaving the building. Our clinic rooms allow the space for Social Distancing of 2 metres so families and individuals can remove their masks, if wearing, once inside the room should they feel more comfortable in doing so.
In addition to the above measures, which have been in place for quite some time, there is now also a separate entrance and exit to the building to avoid congestion at the front door of the building.
We shared an article from the Telegraph with some good news from last year: 'Peterborough man with Autism who found his first job in 2020'.
Today we shared information about some exciting opportunities for young people being offered by 'Storyhouse' Chester, which may be of interest to you or someone you know.
After a well deserved break, Calvin will be back with reviews next week.
Calvin and Ren streamed as usual this week. The game was 'Ghost of Tsushima' on Tuesday. They will be streaming again later at 7:30pm, and tonight the game will be 'Dead Cells'.
Wishing you all a lovely weekend.
Company Secretary and Educational Lead
---
Share This Post: