---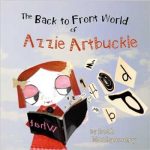 "THE BACK TO FRONT WORLD OF AZZIE ARTBUCKLE"
"For all the amazing people out there who have struggled and not known why. This is for you".
It begins with very helpful notes for teachers regarding the different kinds of neurodiversity and also emphasises the strengths and talents that come with neurodiversity, as well as acknowledging the difficulties, many of which are exacerbated by other people's reactions. The illustrations are fun and there are only a few words to read, which is in keeping with Azzie's own difficulties with reading, which make her feel like a failure despite her enormous talents in other areas. Getting a diagnosis of Dyslexia, however, enables Azzie to make sense of her struggles and it stopped others calling her stupid or accusing her of messing about.
One "nit picking comment", but one I hope might prove useful for future publications is that it would be helpful to have a description, in the notes, for the teachers at the beginning of the book regarding Irlen Syndrome. www.irlen.org.uk
Dr. Linda Buchan
Consultant Clinical Psychologist
& Director of Axia ASD Ltd.
---
Share This Post: