---
Mental Health Today – News
19th June 2017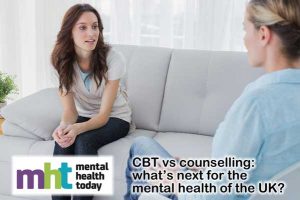 The BACP warned this month that counselling could be removed from the NICE Guidelines for Depression, leaving NHS patients only access to CBT. What could this mean for the mental health of the UK?
Favouring cognitive behavioural therapy (CBT) over counselling is not a new thing.
The NICE guidelines for Depression already recommends CBT as its frontline therapy. While they ask therapists offering counselling to discuss with their patients how uncertain the effectiveness of counselling can be.
What's the difference between CBT and counselling?
Both CBT and counselling are used to support people with similar issues like anxiety and depression. And they're both forms of talking therapy and can be used for short term work.
But while CBT therapists and clients work together to change a client's behaviour or thinking patterns, counselling is less directive and through listening, empathy, encouragement and challenge counselling hopes to help the client to better understand themselves and find their own solutions to cope with the issues that face them.
Arguably someone could equally benefit from being supported by both interventions at different stages of their lives.
CONTINUE READING…
---
Share This Post: