---
Here at Axia ASD we are proud to announce the launch of Linda's new book
"How Did That Happen:
Memoirs of a Dyspraxic Diagnostician"
which is published today!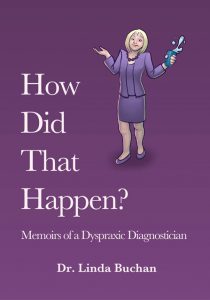 This is the second book which Axia ASD Ltd. have published, following Dream's Diatribe "Mental Models of Reality" earlier this year.
We are still in the process of putting together our own "online shopping cart" so that people can purchase merchandise directly from our website in the not too distant future.
However Dr. Buchan's book is immediately available for only £5 + P&P FROM HERE
---
The chapter headings are as follows:
Chapter 1 – Why Write This Book: Beware Of Experts
Chapter 2 – Why Diagnose
Chapter 3 – How We Diagnose
Chapter 4 – Post Diagnosis/Adjustment To The Diagnosis
Chapter 5 – Looking Back At The Past
Chapter 6 – The Spiky Profile
Chapter 7 – Unwritten Features of Dyspraxia
Chapter 8 – Getting Older
Chapter 9 – Other Peoples' Perspectives On Dyspraxia: Dyspraxia – From The Outside Looking In
Chapter 10 – Cheetahs and Giraffes
---
Share This Post: